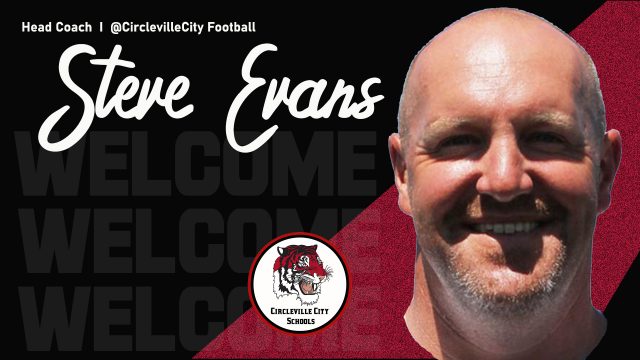 At the January meeting of the board of education, school leadership tabbed Steve Evans as the next head coach of the Circleville High School Football team.
Evans comes to Circleville by way of Amanda-Clearcreek Local Schools where he currently serves as Athletic Director.
"I am excited to have the opportunity and responsibility to be a positive role model to the players on this team and the student body at Circleville High School," said Evans. "I have a love and passion for the game of football as well as a love and passion for building long lasting relationships with the players in the Tiger program. We will raise the bar in all aspects of football, the classroom, school and community as this team will believe in one another in everything we do – at all times we will play eleven as one."
For Evans, he returns to the MSL Buckeye Division as a coach for the first time since 2013 having previously served as head coach of Teays Valley. At two stints in Ashville as head coach, Evans compiled a 31-30 record with the Vikings culminating in a 7-3-0 record and a Mid-State League Title in 2005. He is a two time, Mid-State League 'Coach of the Year' award winner (2002 and 2005) and a State of Ohio Division III 'Coach of the Year' award winner (2002).
As for what Tiger Nation can expect with the new head coach of the Red & Black, Evans points to creating a foundation reliant upon a values-based culture.
"Our Tiger Family members can expect to see a program that is based in discipline, organization, and honesty as principles that are cornerstones of my coaching philosophy," said Evans. "A five step (values) plan will be put into place to help this program get turn around, grounded in attitude, commitment, accountability, dependability, and enthusiasm."
Outside of his time with the Aces and Vikings, Evans previously served as the head coach of Hamilton Township (2001-2003), Reynoldsburg (2008-2011), and played collegiately with the Purple Raiders of Mount Union.
Evans holds a B.A. in Physical Education from the University of Mount Union and a M.A. in Education from the University of Findlay.