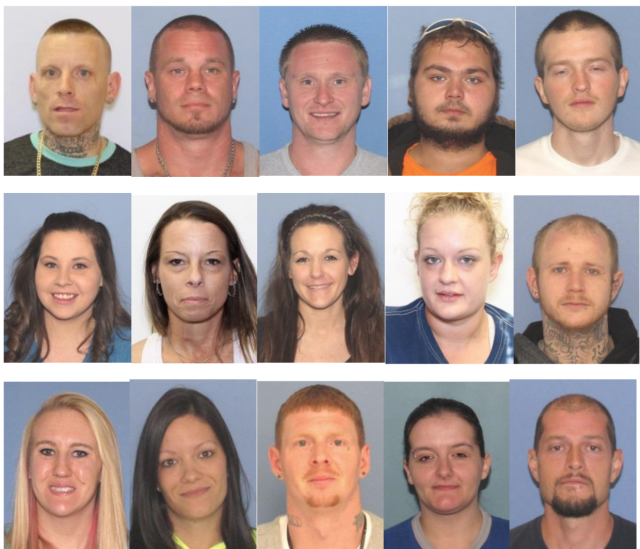 SOUTHERN OHIO – The Fairfield-Athens- Logan- Circleville Major Crimes Unit, Columbus Division of
Police, Ohio Attorney General's Bureau of Criminal Investigation, Ohio Attorney
General's Special Prosecution Section, Fairfield County Prosecutors Office, Hocking
County Prosecutors Office, and the Pickaway County Prosecutors Office are proud to
announce the conclusion of "Operation Krystal Ball" and the indictments and arrests of
fifteen individuals across Fairfield, Hocking, and Pickaway Counties.



This collaborative investigation which spanned nearly a year dismantled a drug
trafficking organization with ties to Dayton, Ohio, that was responsible for distributing
more than sixty-two and one half (62.5) pounds of methamphetamine across Fairfield,
Hocking, Pickaway and Franklin Counties. The investigation resulted in two-hundred
and thirty-six (236) felony charges including engaging in a pattern of corrupt activity.
Those charges included 35 felonies of the 1st degree, 90 felonies of the 2nd degree, 62
felonies of the 3rd degree, 38 felonies of the 4th degree and 11 felonies of the 5th degree.
It is anticipated that an additional nine (09) individuals identified as co-conspirators will
be indicted in Franklin County on similar charges in the coming weeks.
The investigation began with Columbus Division of Police Zone 2 patrol officers
identifying Robert L. Phelps of 2622 S. 5th St. Columbus Ohio as a source of supply of
methamphetamine. Those officers recognized early on that Mr. Phelps was connected to
individuals from areas outside of Columbus and contacted the Major Crimes Unit. A
collaborative investigation was initiated that included the Bureau of Criminal
Investigation and the Columbus Division of Police Violent Crimes/Intelligence Unit.



As the investigation unfolded it was learned that Phelps was supplying individuals with
methamphetamine at the wholesale and retail sales level across multiple central and
southeastern Ohio counties. This investigation and its successful outcomes are a direct
result of the commitment to continued collaboration between the Fairfield-Athens-
Logan-Circleville Major Crimes Unit, Columbus Division of Police, and BCI. The
Prosecuting Attorney's Offices in Fairfield, Hocking, and Pickaway Counties and the
Ohio Attorney General's Special Prosecutions Section played a huge role in pursuing
these indictments and the prosecutions to follow. This investigation went far beyond
traditional investigative methods employing the use of specialized analytical support
from BCI and the El Paso Intelligence Center and technology which greatly aided in
clearly identifying all those involved, and the scope of their organizational reach.
As technology evolves so do the criminal enterprises that use it to facilitate their illegal
activity including the use of the dark web, social media, instant messaging, and cloud-
based services. In this case, Major Crimes Unit Detectives and their partners from the
Columbus Division of Police, and the Bureau of Criminal Investigation utilized every
possible technology based investigative tool at their disposal to not only observe and
record conversations between members of the Phelps organization, but monitor their
movements to include capturing on video drug transactions between Phelps and his co-
conspirators. Investigators were not only able to interdict drug trafficking occurring in
real time but were able to historically chronical their drug trafficking enterprise
throughout the investigation. The abundance of evidence collected allowed prosecutors
to indict key members of this organization on Engaging in a Pattern of Corrupt Activity
charges.
Indicted and arrested were;



INDICTED IN FAIRFIELD COUNTY

Robert L. Phelps 40 2622 S. 5th Street Columbus, Ohio
Indicted in Fairfield County for Aggravated Trafficking in Drugs, Trafficking in Heroin,
Engaging in a Pattern of Corrupt Activity (Major Drug Offenses)
28 Felonies of the 1st degree
45 Felonies of the 2nd degree
06 Felonies of the 3rd degree

Micki McGee 36 Currently Incarcerated (formerly of Lancaster)
Indicted in Fairfield County for Aggravated Trafficking in Drugs, (Firearms Spec),
Trafficking in Heroin, Improperly Handling a Firearm in a Motor Vehicle, Engaging in a
Pattern of Corrupt Activity (Major Drug Offenses)
01 Felony of the 1st degree
09 Felonies of the 2nd degree
05 Felonies of the 3rd degree

Josh Dysart 37 Currently Incarcerated Fairfield County Jail (Formerly of Pleasantville)
Indicted in Fairfield County for Aggravated Trafficking in Drugs, (Firearms Spec),
Trafficking in Heroin, Improperly Handling a Firearm in a Motor Vehicle, Engaging in a
Pattern of Corrupt Activity (Major Drug Offenses)
03 Felony of the 1st degree
02 Felonies of the 2nd degree
06 Felonies of the 3rd degree
02 Felonies of the 4th degree

Josh Swisher 29 Currently Incarcerated Fairfield County Jail (Formerly of Lancaster)
Indicted in Fairfield County for Aggravated Trafficking in Drugs
01 Felony of the 1st degree
04 Felonies of the 2nd degree

Gary R Rutherford 26 Currently Incarcerated Fairfield County Jail (Formerly of
Lancaster)
Indicted in Fairfield County for Aggravated Trafficking in Drugs, Conspiracy to Commit
Aggravated Trafficking in Drugs
01 Felony of the 1st degree
01 Felonies of the 2nd degree
04 Felonies of the 3rd degree
13 Felonies of the 4th degree

Angelique Morris 26 Currently Incarcerated Fairfield County Jail (Formerly of
Pleasantville)
Indicted in Fairfield County for Aggravated Trafficking in Drugs, Conspiracy to Commit
Aggravated Trafficking in Drugs, Improperly Handling a Firearm in a Motor Vehicle
01 Felonies of the 2nd degree
03 Felonies of the 3rd degree
01 Felonies of the 4th degree

Kassandra Braden 29 Currently Incarcerated Fairfield County Jail (Formerly of
Lancaster)
Indicted in Fairfield County for Aggravated Trafficking in Drugs, Conspiracy to Commit
Aggravated Trafficking in Drugs, Trafficking in Heroin, Possession of Heroin
04 Felonies of the 2nd
degree
03 Felonies of the 3rd degree
02 Felonies of the 4th degree

Ericka Adcock 29 158 Main St. Baltimore
Indicted in Fairfield County for Aggravated Trafficking in Drugs, Possession of Heroin
01 Felonies of the 2nd degree
01 Felonies of the 4th degree

Nina Maestle 36 Currently Incarcerated Fairfield County Jail (Formerly of Lancaster)
Indicted in Fairfield County for Aggravated Trafficking in Drugs, Conspiracy to Commit
Aggravated Trafficking in Drugs
02 Felonies of the 2
nd degree
02 Felonies of the 4th degree
INDICTED IN HOCKING COUNTY
Chris Nixon 30 Currently Incarcerated (Formerly of Logan)
Indicted in Hocking County for Aggravated Trafficking in Drugs, Conspiracy to Commit
Aggravated Trafficking in Drugs
03 Felonies of the 2nd degree
04 Felonies of the 3rd degree


Kimberly Young 29 Currently Incarcerated (Formerly of Athens)
Indicted in Hocking County for Aggravated Trafficking in Drugs, Conspiracy to Commit
Aggravated Trafficking in Drugs
05 Felonies of the 2nd degree
17 Felonies of the 3rd degree
04 Felonies of the 4th degree
01 Felonies of the 5th degree

Trisha Maffin 33 Homer St. Logan
Indicted in Hocking County for Aggravated Possession of Drugs, Possession of Heroin
10 Felonies of the 2nd degree
01 Felonies of the 4th degree

Jonathan Wilson 33 Incarcerated SE Regional jail
Indicted in Hocking County for Aggravated Possession of Drugs
02 Felonies of the 2nd degree
05 Felonies of the 3rd degree
INDICTED IN PICKAWAY COUNTY

Danielle Friesner 29 Currently Incarcerated Pickaway County Jail (Formerly of
Circleville)
Indicted in Pickaway County for Aggravated Trafficking in Drugs, Conspiracy to
Commit Aggravated Trafficking in Drugs
02 Felonies of the 2nd degree
05 Felonies of the 3rd degree

Michael Vandagriff 42 Currently Incarcerated Pickaway County Jail (Formerly of
Circleville)
Indicted in Pickaway County for Aggravated Trafficking in Drugs
04 Felonies of the 3rd degree
12 Felonies of the 4th degree
10 Felonies of the 5th degree
For any additional information or questions please contact the Major Crimes Unit
Commander Dennis Lowe at 740-901-1729 or via email at
[email protected]