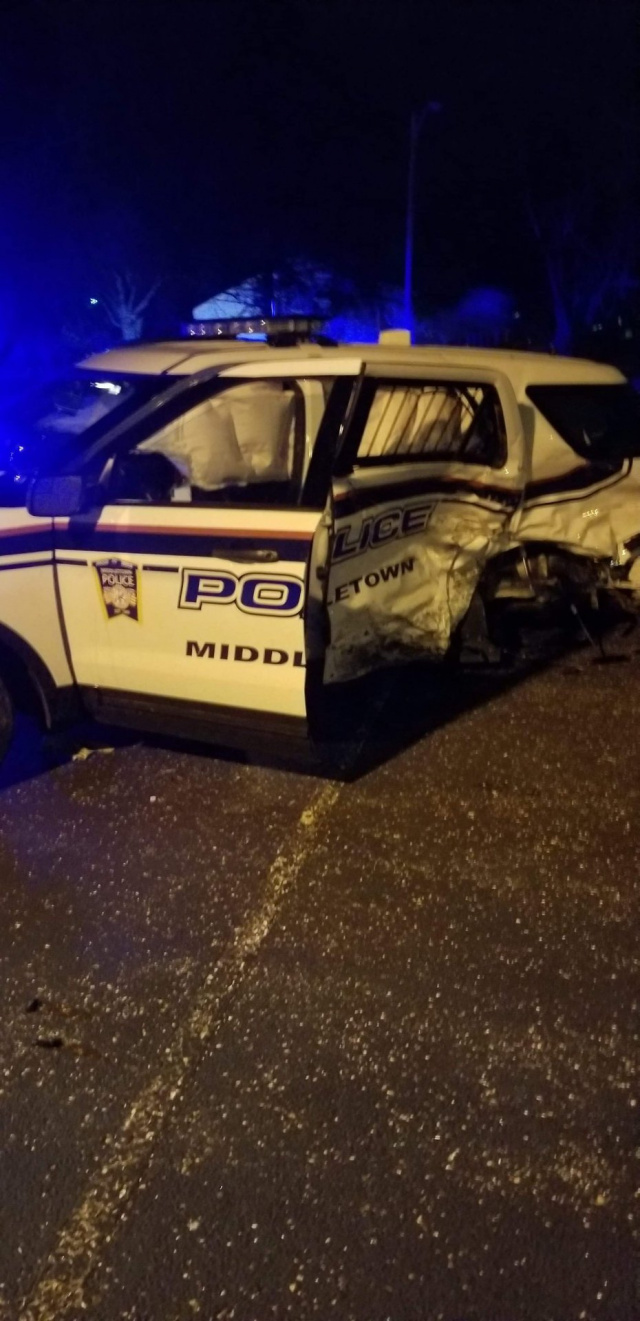 Middletown – An officer was attacked during an investigation of a disturbance on Thursday night February 28, 2019.  The assaulant then stole the police car and ran it into another police car, after the crash the man still fought the officers until he was finally arrested.
Overnight, the Middletown Division of Police responded to a call of a disturbance in the area of Bavarian Drive involving an possible intoxicated subject later identified as Jason Cooper, DOB 11-7-69. Officer Glassburn was the first officer on scene and was flagged down by the female complainant. The complainant advised that Jason Cooper was intoxicated and was hiding.

Through the course of the investigation by Officer Glassburn, Cooper exited the bushes and started approaching Officer Glassburn, who was talking to the female from the back of his cruiser. Cooper had a knife in his hand. Officer Glassburn gave several commands to drop the item, but Cooper did not comply. Officer Glassburn then deployed his Taser and tased Jason Cooper, but did not have any affect. Cooper then jumped in Officer Glassburn's police cruiser, while Glassburn was still at the rear of the vehicle, in an attempt to flee the area. While in the police cruiser Cooper intentionally rammed another police cruiser driven by Officer Ryan Morgan, disabling both police cruisers. Officers continued to struggle with Cooper after the crash. Cooper continued to resist arrest and was finally placed in custody.
Officer Ryan Morgan was transported to Kettering Hospital and released after medical treatment. Jason Cooper was transported to Middletown Atrium Medical Center for medical treatment while in police custody. Ohio State Patrol assisted in the crash portion investigation. MPD believes this was an ambush type of disturbance, as Cooper was hiding in the bushes and waited until the officer left the cruiser before approaching him with a weapon. There is a history of disturbances involving Cooper at that residence as well.
Jason Cooper will be charged with Felonious Assault, Felon of Second Degree; Aggravated Vehicular Assault, Felony Third Degree; Grand Theft Felony, of Fourth Degree; Aggravated Menacing Misdemeanor, of First Degree; Assault on a Police Officer, Felony of Fourth Degree; Obstructing, Resisting Arrest, Driving under Suspension and Criminal Tools.
A statement from the Chief after the attack, "To those saying why not charged with Attempted Murder, charges may be added later after all investigation is done and prosecutors review the case with detectives – have to prove intent. For those complaining the officer left his keys in the car, the officer was literally 5-8 feet away from the car, no more, just like a traffic stop. The suspect was hiding, in the dark, in the bushes and while the officer was trying to find out what was going on through the other party involved, the suspect came out of nowhere towards the officer. We don't turn the car off unless we are leaving the area. If you do, it shuts your whole in car computer system down. The officer wasn't in UDF getting a coffee, he was on a disturbance call. The officer did exactly what he was supposed to do. For those saying the officer should have shot the suspect, easy to say when you aren't in this law enforcement climate. The guy had a knife so use of force was justifiable without question, but the officer did not see the knife until the last few seconds of contact. He chose the taser route. He didn't feel it had reached another level yet. The officer was also alone with no backup. This all happened in seconds, not minutes. It is not that easy to know what works unless you have been there, done that. The officer involved is a hell of a cop who busts his tail for this city – I am proud of him and the other officer who responded. They do a tremendous job for you. Couldn't be prouder of these officers – while we are all sleeping, they deal with people like this who are out to hurt others. I am proud as hell of this people and what they stand for."