ROSS – Ohio Health department and Governor Dewine is opening up 18 Mass Vaccination clinics in pivotal locations all across Ohio in order to make more vaccination available.
Every Ohioan age 16 and older will be eligible for vaccines if they want them March 29.
Dewine said during a press conference last week that he wanted to make sure that all slots for the vaccine were filled and none was wasted.
Ross county will be the closest clinic in the 18 to Pickaway county. Available March 29-April 2, Monday through Thursday will be Pfizer (16+), and Friday will be Johnson & Johnson (18+). All appointments are now open via ArmorVax. Please use the website or app to schedule your appointment: https://www.armorvax.com/If you are registering a minor under the age of 18, the parent or legal guardian will need to create an account in ArmorVax and then create a profile for the minor. An appointment can then be scheduled via the app.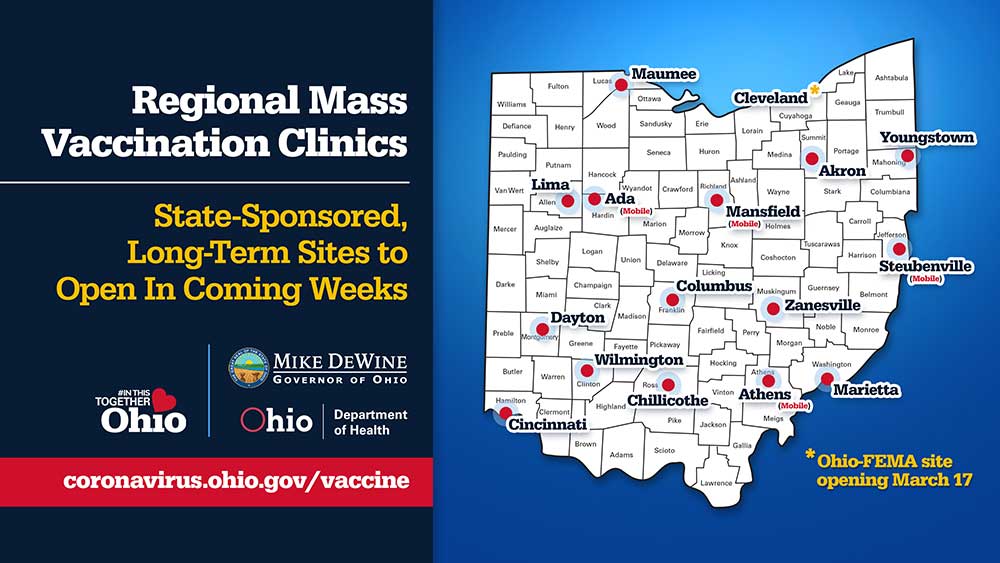 Other locations according to the state will be Columbus, Athens, Cincinnati, and Willington in the Southern Ohio Areas. More information here: https://coronavirus.ohio.gov/wps/portal/gov/covid-19/covid-19-vaccination-program/resources/covid-19-mass-vaccination-clinics