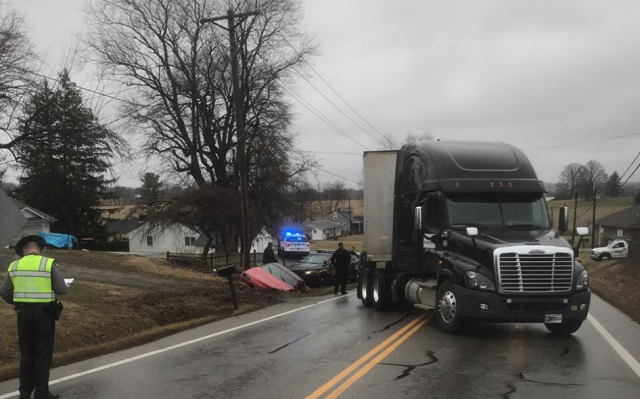 ZANESVILLE – A man in a 90's big body classic Camaro ran from multiple departments in Muskingham county today.
The chase started on Maple Avenue in Zanesville around 2:30 pm today when a officer attempted to stop the driver for driving erratically. According to Ohio Highway Police, during the pursuit, the driver turned onto State Route 60, where he was seen throwing money out the window of the car. The man then tried to elude police by pulling into a dollar general where police surrounded the Camaro. The man then desperate to escape rammed a police car and hit another, then somehow avoided capture. The suspect turned back onto State Route 60, where he was finally caught around the areas of Ash meadows drive after a semi-truck became pivotal in stopping the car when the suspect tried to drive around the truck but slid into a ditch getting his classic car stuck.
Highway Patrol was then able to arrest the man without issues.
Troopers said that four police cars were damaged and two civilian cars.
Highway Patrol says they have not been able to recover the cash that was thrown from the car, and if anyone picked it up they ask if they would return it.
The man will be charged with several counts of eluding, and for the multiple accidents, including the intentional ramming of a police car.
Several videos have been posted to Zaneviral media of the chase check them out here.