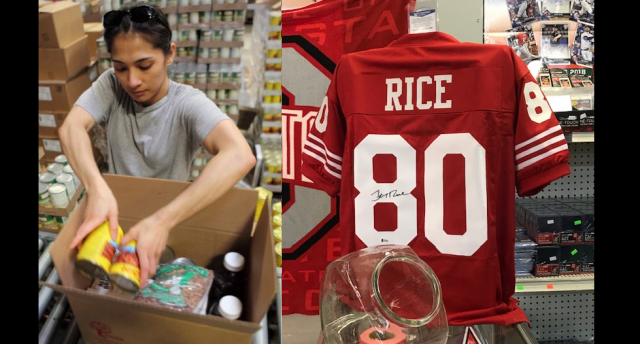 CIRCLEVILLE – A local sports, card and collectible shop is raising funds and food to help assist with a local food bank. Gametime Collectibles, located at 2150 N Court Street, Circleville is selling raffle tickets for an autographed Jerry Rice jersey in addition to canned goods that will be given to the Church of Christ Food Pantry, located at 1555 North Court Street, Circleville Ohio.
According to Gametime Collectibles, there are two ways to help:
Bring non-perishable food items to our local shop.
Purchase a raffle ticket. We will be selling $2 raffle tickets (3/$5) on an Authentic Hall of Fame member Jerry Rice full size autographed Jersey.100% of the money will go to purchase food for those in need. The random drawing will take place December 8th at 6pm, but you do not need to be present to win.
"Let's work together and show the local community what great people work, live and shop in this community!" said Rob Dolby, co-owner.
Information on the Church of Christ Food Pantry:
CHURCH OF CHRIST
1555 North Court Street, Circleville
Providing food for our community
In 2017 We distributed 110,233 lbs. of food to 6,331 people in 2,139 families. Thru October of 2018 we have distributed 96,624 lbs of food to 5,649 people in 1,837 families. (Each person receives enough food for at least 9 meals each month.)
Cost and Source of the food distributed
Our congregation budgets $4,000 to buy food from the Mid Ohio Food Bank.
Kroger through their round-up program in our local stores provided about $2,000 in 2017 and so far in 2018, we anticipate about the same.
Bob Evans, KFC, Pizza Hut also donate to our church surplus food from their stores to give away.
We have also had some individuals donate money to our program. We are grateful for any donations.
Our Food Bank is Maintained and operated by our members.
Food is distributed by appointment only. Call 740 474-4380 Monday-Thursday from 8am until noon. Clients must have picture ID and meet the income guidelines which are set by the Mid Ohio Food Bank.
Our food bank is usually open 4 days a week.