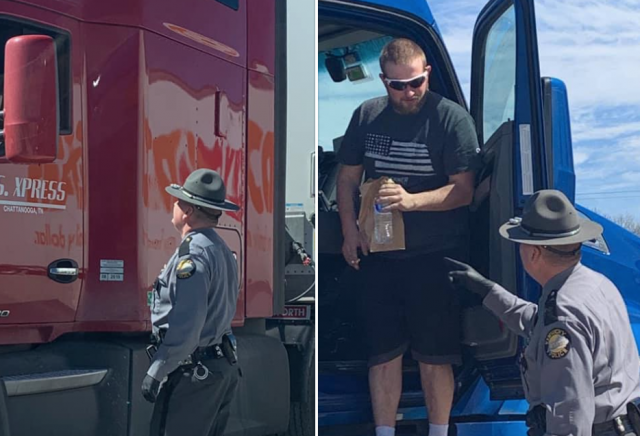 KENTUCKY – Over the past week arguments online have erupted over what the definition of "essential worker" is, but no one is arguing that truck drivers have been the backbone of bringing essential supplies to our areas amid COVID-19 Pandemic.



Another Essential employee who also doesn't receive much argument is the State Trooper. In this story its one essential trooper recognizing another.
According to Kentucky State Police,"In an effort to keep Kentucky shelves stocked, and tractor trailers on the road, KSP Post 8 Troopers are delivering lunches to hungry commercial vehicle drivers. We are all in this together!"
Commercial truck drivers have had some issues finding food in their hundreds of miles of travel amid COVID-19 shut downs and stay at home orders. In each state they are in definitions on what is "essential" and what is not is different making the search for food, rest and sometimes gas difficult.
Two weeks ago Pennsylvania shut down all of their rest areas along the interstates to reduce spread of the Corona virus, saying they did not have the staffing to property clean facilities. Truck drivers responded to Washington complaining of unsafe conditions not being able to stop at these rest areas that supply them with places to rest and bathroom facilites they need to do their jobs.
Locally in Circleville a local wendys worker went beyond the call of duty and served a stranded without food truck driver needing food.