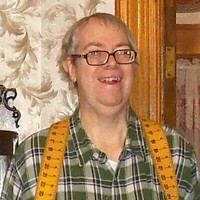 James M. Quinn, Jr., 64, of Oberlin, formerly of Chillicothe, died at 2:00am Monday, January 4, 2021, in the Welcome Nursing Home, Oberlin.
He was born August 13, 1956, in Buffalo, NY, to the late Dr. James M., Sr. and Mary Jane (Bugman) Quinn.
Survivors include his sister: Patricia A. Patrick (Steve) of Chillicothe; brothers: Timothy J. Quinn (Shelly) of Mogadore, OH, Thomas J. Quinn (Peggy) of Wellington, OH, and Col. Robert C. Quinn (Virginia) of Fayetteville, NC. Nieces and nephews Steven Patrick, Scott Patrick, Kristin Bush, Kirby Quinn, Kim Burnham, Heather Baker, Kelly Quinn and Nathan Quinn, Anthony Hubbard, and Jennifer Sanchez.
He was a graduate of Unioto High School. He worked for 1st National Bank, Goodwill Industries and Caldwell Accountants. Devoted to his parents, his greatest joy in life was family gatherings around the holidays. A great lover of animals, he always had a soft spot in his heart for any dog or cat he met, most especially his beloved Irish Setters. He was a ravenous consumer of history, particularly early to mid-twentieth century focused on the World Wars. Further, he devoted much time to his hobbies including numismatics and folk art from Cairn Studios.
Due to COVID restrictions a grave side service will be held at the convenience of the family. Arrangements are under the direction of Haller Funeral Home & Crematory.