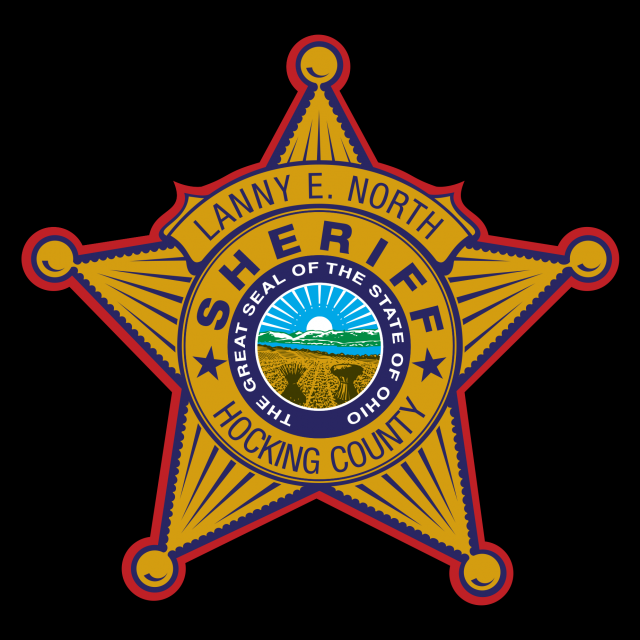 HOCKING –
Hocking County Sheriff Lanny E. North reports:
March 4, 2020
Deputies responded to a Moore Road address on a call of threats and harassment._____
March 4, 2020
Deputies responded to a Blosser Road address and took a theft report of tire and rim._____
March 4, 2020
Laurelville deputies were advised of a car parked in the handicapped parking spot in from of the bank for approx. 4 days. Deputies contacted a wrecker service and had the vehicle impounded._____
March 4, 2020
Deputies responded to a SR 278 Carbon Hill residence concerning an unruly juvenile._____
March 4, 2020
Deputies received a dog bite from HVCH regarding a dog bite which had occurred in late February. Deputies contacted the victim, who resides outside of the county, by phone. The victim stated while visiting friends and family on West Buckingham Road, a family's canine bite her. The incident was referred to the Hocking County deputy serving as the dog warden._____
March 5, 2020
An individual came to the Sheriff's Office to report an alleged abuse to two children in foster care. A report was taken and forwarded to the detective bureau and Hocking County Children Services._____
March 5, 2020
Deputies responded to a Carbon Hill-Buchtel Road address regarding an unruly child and assault. Possible charges were forwarded to the Hocking County Prosecutor for review._____
March 5, 2020
HCSO received a call from a SR 180 resident stating that the father of her child had taken their one year old and does not have custody. The caller stated when they arrived at her residence, she exited the vehicle and was going to get her child out the car seat. As she attempted, the father, Brie Smith, 24 of Lancaster, drove away with the child. Detectives were able to locate Smith at a residence in Lancaster and return the child to his mother. Smith was charged with Interference with custody._____
March 5, 2020
A Jack Run Road residence came into the Sheriff's Office to report is firearm had been stolen._____
March 6, 2020
Deputies responded to a report of a suspicious vehicle parked on the Carbon Hill EMS station parking lot. When deputies arrived, they observed two occupants inside of the vehicle. The male driver was identified as Charles Beverly and the female Wendy Matthews. The male exited the vehicle and ran toward the creek behind the EMS building. Beverly has several outstanding arrest warrants from Hocking County and Matthew had an arrest warrant from Athens County._____
Other officers arrived, and Deputy Witryk his canine partner Dzeck searched the area for Beverly but were unable to locate him Deputy Witryk deployed Dzeck on a free-air search of the vehicle. Dzeck indicated positive indication on the rear seat of the vehicle. Deputies located hypodermic needles as well as other drug paraphernalia in the vehicle. A black stick substance, presumed to be black tar heroin and a crystal substance presumed to be crystal methamphetamine were recovered as well._____
The suspected drugs will be submitted for analysis and charges are pending._____
March 7, 2020
Deputies assigned to Laurelville responded to a Laurelville address to assist Hocking County EMS. EMS were treating a male victim who was unresponsive. As EMT's were treating the victim, they observed a glass pipe which appeared to be a drug instrument. The victim's girlfriend stated the victim had used heroin. The victim was transported to HCCH._____
March 7, 2020
Deputies were dispatched to the area of US 33 and Buena Vista Road on an unknown complaint. Deputies located the vehicle and spoke with the occupants. The driver stated her boyfriend became mad at her and attempted to remove her right hand from the steering wheel causing her to veer out of the lane of travel. The driver was able to pull over and contacted "on star" to summons help. The male occupant fled when he learned law enforcement had been contacted. _____
March 8, 2020
Deputies were dispatched to a Davis Chapel Road address in reference to an unruly male. When they arrived, they were notified a male in the residence had threatened to move out and kill himself. The male agreed to go to HVCH for an evaluation._____
March 8, 2020
Deputies conducted a traffic stop on a vehicle for a traffic violation. The vehicle was occupied by two individuals, with the driver identified as Darren Dean, 33 of Lancaster. The deputy noticed the driver appeared to be visibly nervous. Dean gave consent to search his vehicle, and during the consent search, deputies located a nylon clutch bag in the engine compartment. The bag contained what appeared to be Methamphetamine, which Dean admitted was meth. Also, inside of the bag was tin foil bundles that were consistent with the packaging of opiates as well as an individually packaged pill later identified as Benzodiazepine. Dean admitted the foil contained Heroin/Fentanyl mixture. Dean was charged with possession of a controlled substance (Benzodiazepine) (F-5), Agg possession of a controlled substance (Heroin) (F-4) and Agg possession of a controlled substance (Over 2 ounces – Methamphetamine) )F-2). Dean was transported to the SEORJ.