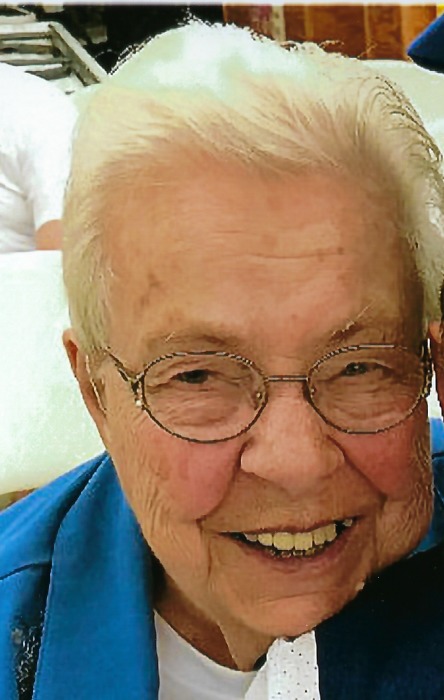 Helen Lucille (Wright) Whitesed passed away unexpectedly on August 9th, 2018.  She was born October 12, 1928 to Walter and Elsie (Wardell) Wright.  Helen was a life-long resident of Williamsport and a 1946 graduate of Williamsport High School.  She was a charter member for 66 years of the Williamsport Child Study Club, member of the Williamsport United Methodist Church, member of the United Methodist Women's organization, member of the Williamsport Sorosis Club, former Berger Hospital volunteer for 15 years, a former EMT on WADES, and a former Westfall bus driver.  Helen and husband Paul also owned the Whitesed Hardware for several years.  Helen greatly enjoyed Ohio State football, basketball and the band.  She had been going to football and basketball games with her family for several years and had been looking forward to another great year.
The love of her life was her great grandson, Eli.  She loved watching him swim and play baseball.  They had a great time playing games, coloring, drawing pictures, playing with his hot wheel cars, reading stories together, playing games on the Wii, etc.  Eli loved his GG (great grandma) dearly.  He taught her to do bottle flipping, to 'dab', and to know the Fortnite dances.  She was pretty 'hip' for an 89 year old!  Helen was preceded in death by her husband, Paul Whitesed, her parents, brothers Warren (Norma) Wright and Kenneth (Virginia) Wright and sister Norma Jean Wright (Bill) Keller.
Surviving with wonderful memories of Helen are "baby brother" Joe (Nellie) Wright of Williamsport, daughters Kay Swaney of Williamsport and Cora (Paul) Winters of Silverthorne, Colorado and granddaughter Beth Swaney (Kristin Kieffer) and great grandson, Eli Patrick Kieffer-Swaney.  Visitation will be at Wellman Funeral Home, Circleville from 4-7pm on Monday, August 13, 2018 with the service on Tuesday, August 14th at 10:30am with the Reverend C. Edward Linville officiating.  Burial will be in Springlawn Cemetery, Williamsport next to Paul (who passed away 30 years ago) In lieu of flowers, memorial donations can be made to the Wil-Deer Rec Board (Williamsport Community Square) or the Westfall Education Foundation.  Either donation can be sent to Katie Barnes, 19790 Pherson Pike, Williamsport, Ohio 43164.  Online condolences can be made to www.wellmanfuneralhomes.com.