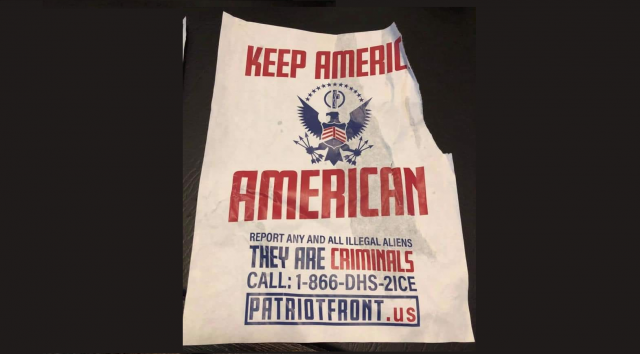 CIRCLEVILLE OHIO – Small towns aren't always a hotbed of controversy regarding race relations and political issues, but a new slew of posters has begun to appear in downtown Circleville. The posters contain information regarding who to call to report illegal immigrants. Although the message may be perceived as both reasonable or rash by various political groups, the group behind the posters is known as a extreme hate group.
According to Wikipedia, the Patriot Front, "is an American white supremacist, neo-Nazi, neo-fascist group which cloaks their ideology in the imagery of patriotism, liberty, and other widely accepted American values. Part of the broader alt-right movement, the group split off from Vanguard America in August 2017 in the aftermath of the Unite the Right rally."
According to social media and Scioto Post readers, the flyers have popped up near the United States Postal Office on the corner of S. Court Street and Mound Street, as well as other downtown locations. According to one eyewitness, the posters are "being torn down as quickly as they are being put up". No names or information on the people who are posting the flyers has been found.