OHIO – Governor Dewine announced yesterday March 9th that 2 million Ohioans have been vaccinated but there are alot more to go.
According to the 2020 Census Bureau Ohio has 11.69 million people so only a fraction of people has had the vaccine. Dewine says the decision to receive a vaccine is a personal choice, but I hope you choose to receive it when you are eligible.
When will mandates come off? Dewine has hinted at a 60 to 70% of Ohio vaccinated before dropping mask and social distancing orders. To track this in a different way he is using case incidence rate: the number of new cases reported in two weeks per 100,000 residents. This is a difficult number to find but Dewine gives a updated on this number once a week.
How is this calculated? The goal set by Dewine is 50 New COVID-19 cases per 100,000 residents not including inmates. To get the rate you take the number of new cases with an onset date in the last two weeks and divides it by the most recent population estimate for Ohio: 11,689,100. That number is then multiplied by 100,000 to get the per capita rate.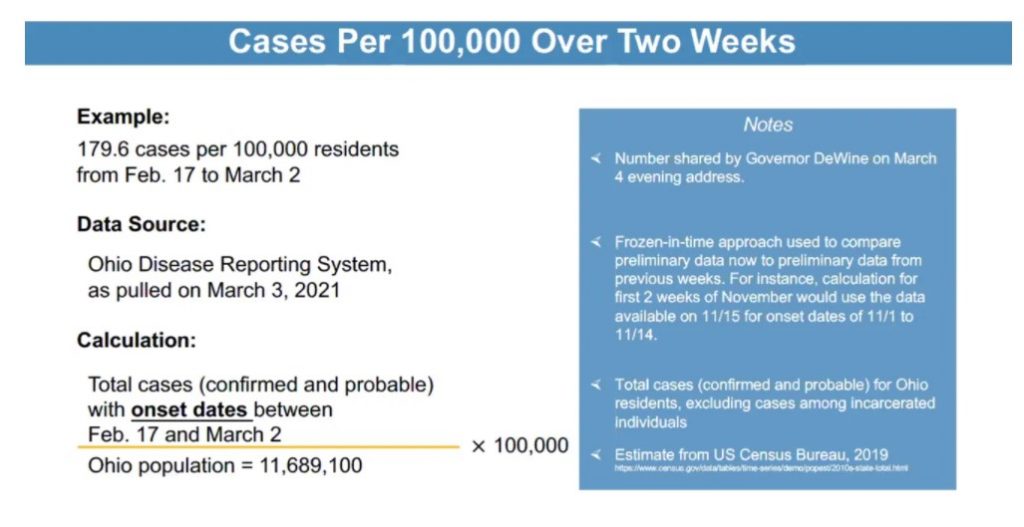 "When Ohio gets down to 50 cases per 100,000 people for two weeks, all health orders will come off," Dewine said. "Cases per 100,000 people for a two-week period is a standard measure we have used since early in the pandemic."