What better season to celebrate getting married than summer! It's all about tasty food, outdoor activities and warm, balmy weather.
If you're planning a bridal shower for the summer, making the most of those seasonal activities and characteristics is the best way to guarantee that the bride to be is celebrated in a way that is unique and unforgettable.
Let's take a look at how to get ready for a fun summer bridal shower.
1.    Go For an All-White Theme
In a lot of coastal spots like the Hamptons and Miami, dressing up in all white is a great way to celebrate. It's also a great way to celebrate a bride that's always got her finger on the pulse of the latest trends.
Also, there's no other color that's better to use to celebrate a bride to be than white. It's timeless, it's classic – and it is sure to bring out those beautiful sparkling diamonds on her finger.
2. Don't Forget the Rose
Another current trend is rose – better known as 'rose all day.' Why not keep her up with the times and spoil her with the very best rose. There's no better way to celebrate a bride to be who loves her wine than with summer's most popular drop.
Not only is the rose going to go down a treat, but the color is going to mix in beautifully – especially if you opt for the all-white theme. We never met anyone who didn't think that rose and white go well together.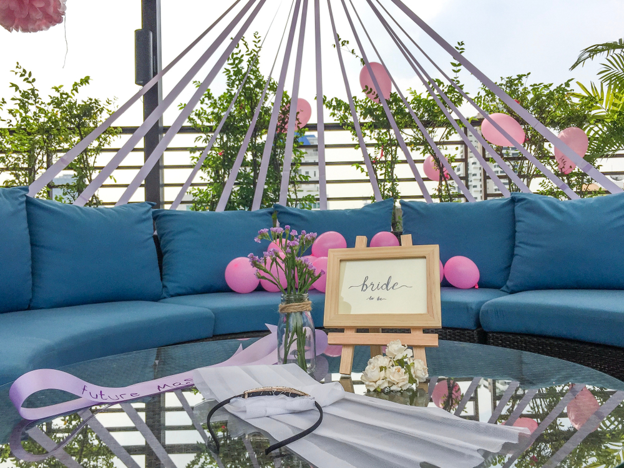 3. Take it to the Rooftop
If you live in the city, what better way to celebrate summer and get closer to the sun than to plan her bridal shower on the rooftop?
There's nothing better than sitting on your rooftop on a balmy summer evening, especially with a glass of rose in hand. This type of bridal shower location will make the most of those warm summer breezes, as well as offering spectacular views of the city.
4. Bring Out the Ice Cream
We all know that summer isn't really summer if you don't have ice cream. What better way to follow the rose than to have the novelty of handcrafting your own sundaes?
You can even pair this with sliders and grilled cheese, and make ice cream the dessert. Start out with the wine before bringing out the BBQ. Every bride-to-be appreciates some hearty food on hand – especially if it's followed by an all you can eat ice cream station.
5.  Opt for a Classic
If you don't have access to a rooftop, why not opt instead for a favorite weekend tradition that can nicely round up her last celebration as a singleton?
Sunday brunch is the perfect way to get together in a relaxed setting and see where the day goes – not to mention you can bring all the rose you want to this type of bridal shower.
Summertime is one of the best times to plan a bridal shower. The weather is warm, the rose is cold, and you can make the most of the entire day. Whether you wake up with Sunday brunch or celebrate into the night with a rooftop bash, you're bound to put together the ultimate bridal shower that's going to be unforgettable.