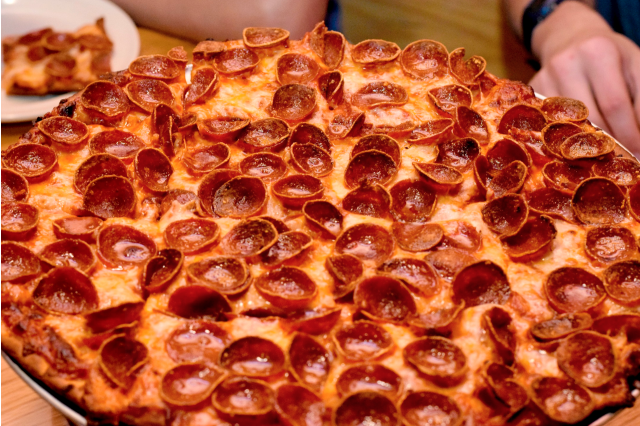 CIRCLEVILLE – McGuffey Lane plays June 13th in Circleville at The Pumpkin Show Park located at 121 North Court Street in Circleville. Admission is Free this year, you only pay for what you drink and eat! Free live music starting off the night with Jeff Stonerock and friends then moving into a local favorite and long time band McGuffey Lane to the Pumpkin Show Park stage! Live music will start at 5 and McGuffey Lane will play from 7 pm on.

According to the Pickaway Information center, you should bring a lawn chair with you and they're will be tons of concessions there.  No coolers or outside food will be allowed.
Pizza from multiple vendors will be brought in by local pizza shops to fight for the 2019 Pizza championship voted on by you and a panel of independent judges.

PIZZA VOTING CLOSES AT 7:30
Featuring Pizza From:
Gant's Pizza and Pub (defending people's choice champs)
Watt Street Tavern
Donatos Pizza
Dairy Shed Too & Ramrod's Pizza
Pizza Cottage Circleville
Gibbys Eatery & Sports Bar
Underdogs Williamsport
More to come!
Gates will open at 5:00 pm – food vendors will be ready for you! The bands will play from 5:00pm-9:00pm, This gives everyone time to get some food and get settled in for the concert.  Pinckney Street will be closed down by Circleville sometime tomorrow morning/afternoon so parking will be best on Court, High, Main, or Scioto Streets.
McGuffey Lane started in Athens, Ohio back in the 1970's, named after a street one of the band members grew up on.   McGuffey Lane has produced 9 albums and toured all over Ohio.  The single "Start It All Over" reached 97 on the Billboard top 100.
Bring the whole family for pizza, good music, and a wonderful time!
Interested in being a pizza vendor?
Contact: [email protected]