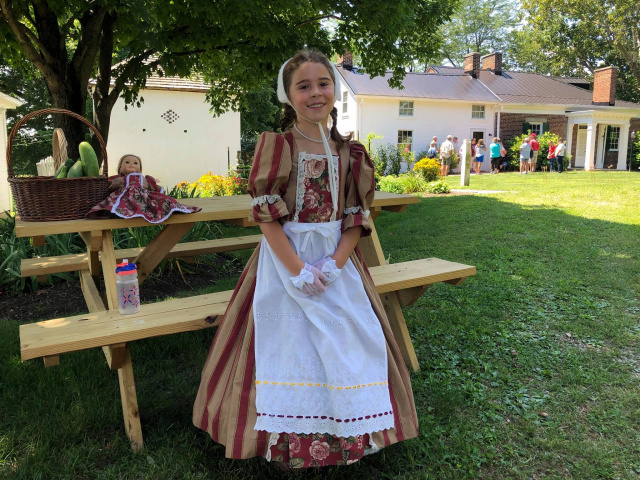 CIRCLEVILLE – Hidden behind six foot cornstalks, overlooking US 23, stands a home thats overlooked this pasture for almost 200 years. Mount Oval Historic House and Farm-Mt. Oval, situated on an oval knoll, built by William Renick, a prominent cattle farmer in the time.
This weekend September 15,2018 from 11-3 Mt. Oval will team up with The Ohio Boy Scouts for an event called Fall Fest and Campfires, this is a free event.   At 11:00 am The Sons of the American Revolution (SAR) will perform a Salute to the Camp Charlotte Agreement along with Heritage Fifth and the Drums and the First Families of Pickaway County. Other pioneer activities during the event will be:
Making apple cider
Rope making
Cast iron cooking.
Music will be ongoing during the event by Tony Ellis and Louise Adkins-Ellis.
First Person Interpretations in the Barn will include Shawnee Indian Chief and Mad Anne Bailey.
Work Horse Demonstrations by John Ellis
Leather Crafting
Muzzle loading firearms
Food and Baked good will be available for purchase.
Mt. Oval will be offering tours of the historic house at noon to 2:30 for 5 dollar donations for upkeep to the building.
Mt. Oval and land surrounding it is rich with local history, including ties with the Native Americans living in the Pickaway Plains in the 18th century, and a suggested link to Thomas Jefferson. Former owner and lifetime resident of Circleville, Ohio, Mary Ruth Tolbert generously bequeathed her beloved home to the Pickaway County Historical Society in 2012.
Watch as we take a tour into this gem of Circleville:
Dont miss a opportunity to enjoy this amazing location this weekend Mt Oval is located just south of Downtown Circleville at 3601 Emerson Rd. in Circleville Ohio.  Parking is Free and admission to this event is free.  Tours are only 5 bucks per person and some food and baked goods are there for purchase.