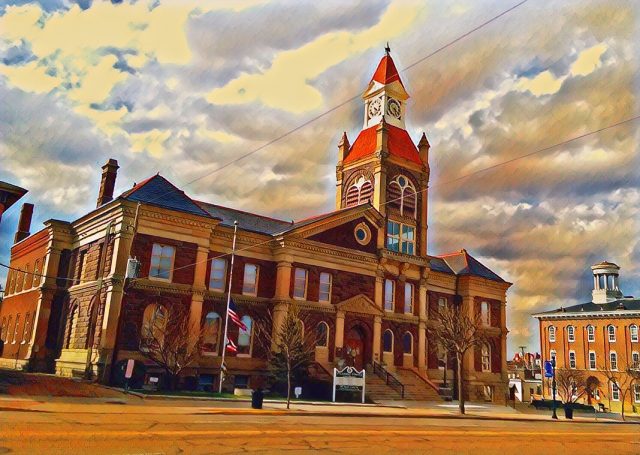 Circleville, OH (April 9, 2020)  – The Fourth District Court of Appeals is pleased to announce it has received a $33,400 grant from the Ohio Supreme Court. The 2020 Remote Technology Grant Opportunity was announced by Chief Justice Maureen O'Connor in March in response to the emergency need caused by the COVID-19 pandemic. The special one-time funding opportunity focused on the purchase of equipment necessary to quickly facilitate remote access for local Ohio courts.
"We are pleased to have received this award. The funds will support the Court's efforts to
implement new technology to allow our operations to continue without interruption in case processing or undue delay in deciding cases," said Administrative Judge Michael Hess.
Unlike almost all other courts, the Fourth District is comprised of four judges who operate from four separate locations in Lawrence County, Athens County, Pickaway County, and a fourth office which will be determined when Governor DeWine appoints a judge to fill the empty seat.
Together, the judges of each of the four offices serve fourteen Ohio counties. Each office
operates with a small staff that coordinates the processing of cases filed within the fourteen counties, so communication between the offices is critical to the continuity of operations.
"The ability to have connectivity and communication between our offices is essential to continue serving our citizens during the COVID-19 public health emergency. As the third largest appellate district in Ohio, it is imperative that we are prepared to adapt our operations as we learn more about this evolving pandemic." said Presiding Judge Jason Smith.
"These funds will allow us to make technology upgrades so that our Court stays open for
business, while protecting our staff and litigants who have filed or plan to file an appeal," said Judge Peter Abele.



Among the new technology the Court plans to implement is Voice over Internet Protocol (VoIP), a technology that allows individuals to make voice calls using a broadband Internet connection instead of a regular (or analog) phone line. The Court is also exploring opportunities to conduct oral arguments by teleconference or through an online virtual meeting space.
About the Fourth District Court of Appeals
Administrative Judge Michael Hess, Presiding Judge Jason Smith, and Judge Peter Abele
currently serve on the Fourth District Court of Appeals. A fourth seat is pending the appointment of a judge who will be selected by Governor DeWine. The seat has been vacant since Judge Matthew McFarland was confirmed by the U.S. Senate to serve on the U.S. District Court for the Southern District of Ohio in December.
The District is comprised of 14 counties: Adams, Athens, Gallia, Highland, Hocking, Jackson, Lawrence, Meigs, Pickaway, Pike, Ross, Scioto, Vinton, and Washington.​
There are 12 courts of appeals in Ohio serving our 88 counties. The courts of appeals are
established by Article IV, Section 1 of the Ohio Constitution, and their jurisdiction is outlined in Article IV, Section 3. As intermediate level appellate courts, their primary function is to hear appeals from the common pleas, municipal and county courts. Each case is heard and decided by a three-judge panel.
​In addition to their appellate jurisdiction, the courts of appeals have original jurisdiction, as does the Supreme Court, to hear applications for writs of habeas corpus, mandamus, procedendo, prohibition and quo warranto.