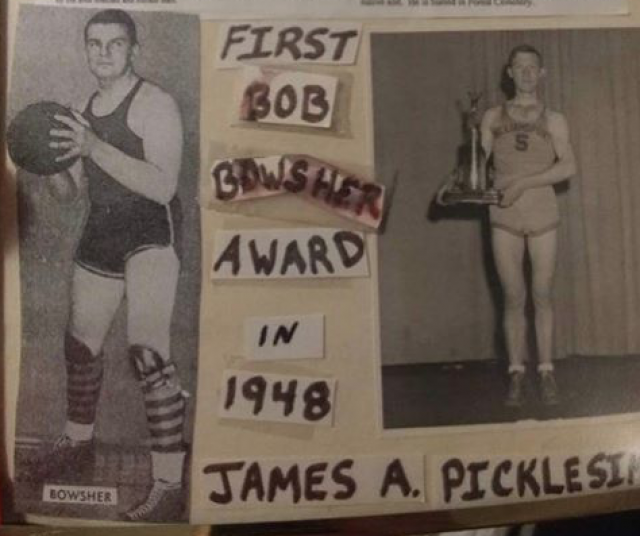 CIRCLEVILLE – The winner of the first Bob Bowsher Memorial award has passed away James Picklesimer, 89.
The Bob Bowsher Memorial award was created in 1948 as a memory of Bob Bowsher from Circleville that was a outstanding student and athlete that died in World War 2.  The special award has been given to one student in Pickaway County every year since.
The award isn't an easy award to win and is given to the best athlete in Pickaway county every year by a poll of the coaches from the area.  Every coach in Pickaway County votes for ten individuals that have been outstanding athletes in the area.  Ten points for the top person down to 1 point.  All of these votes are tallied together and the top score wins the trophy.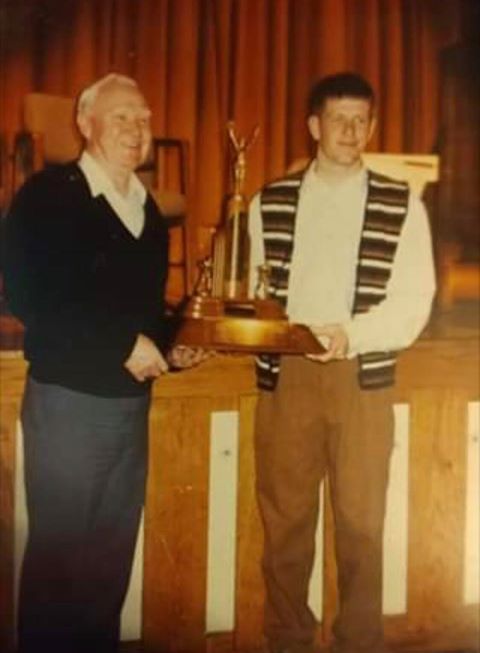 James wasn't the only winner in his family of this award, in 1995 his grandson Tony Picklesimer received the award.  James was able to present the award to his grandson during that time.  James was from Westfall High School, his Grandfather Williamsport.
James Picklesimer, 89, of Circleville passed away on April 16, 2019.  He was born on January 27, 1930 in Johnson County, KY to Elbert and Madge (Pelphrey) Picklesimer.  He was a Korea Army Veteran, 1948 graduate of Williamsport High School, the first recipient of the Bob Bowsher Award in 1948 and was a member of Heritage Nazarene Church and retired in 1993 from E.I. DuPont. In addition to his parents he was preceded in death by wife, Mary (Wilson) Picklesimer, great granddaughter Kaylee, brothers Bob and Charlie Picklesimer and a sister Loraine Manbeavers.  James is survived by his children JF "Pick" Picklesimer, Mindy (Tim) Hickey and Kelly (Josh) Curry, daughter-in-law Vicky Pack, grandchildren Jason (Mindy) and Tony (Shana) Picklesimer, Brittani Picklesimer (Bradley), Brandy Bivens, Brenna Young, Ashley (Josh) Myeress, Hannah Curry (Justin), great grandchildren Braylon, Aniyah Ann, Ella Rose, Kasey (James), Kelsey, Michael, Mason, Marcus, Jordan, Gabrial, Grace, Aubrey, Izabella, Mya and Ean and by several nieces and nephews.  Funeral services will be held on Wednesday, April 24, 2019 at 1:00 p.m. at the Wellman Funeral Home, Circleville with Chaplain Jim Ferrell officiating.  Burial will follow in Springlawn Cemetery.  Friends may call at the funeral home on Tuesday from 4-8 p.m.  Memorial contributions are suggested to Nationwide Childrens Hospital, 700 Childrens Drive, Columbus, Ohio 43205 or Pickaway County Veterans Service Center, 141 West Main Street Suite 300, Circleville, Ohio 43113.  Online condolences can be made to www.wellmanfuneralhomes.com.