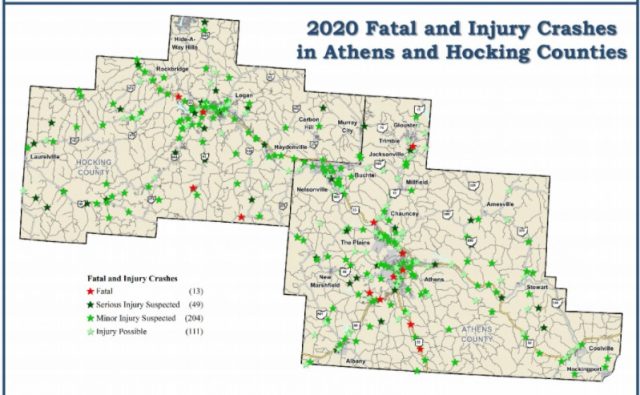 (ATHENS and LOGAN) – The Ohio State Highway Patrol, Hocking County Sheriff's Office, and Athens County Sheriff's Office have announced a collaborative effort to decrease crashes and save lives on US-33 in Hocking County and Athens County. Troopers and
deputies will be focusing on crash-causing violations such as impaired driving, speed, and distracted driving to reduce fatalities along the nearly forty-six-mile stretch of roadway that
goes through both counties. The four-week long initiative will begin March 21 and end on April 17.

"A motorist's poor decisions while behind the wheel can have lifelong consequences," said Lieutenant Virgil S. Conley, Athens Post commander. "That is why responsibility, awareness and safe speeds are so critical for our troopers to impress upon the motoring public to ensure everyone gets to their destinations safely."

In 2020, US-33 had a total of five fatal crashes that resulted in six deaths in the two county stretch. The same stretch of roadway also saw 63 injury crashes.

"The Hocking County Sheriff's Office is committed to providing safe roadways for the residents and visitors of our county," said Hocking County Sheriff Lanny E. North. "We will work in a coordinated and dedicated approach with other law enforcement agencies along the US-33 corridor to ensure that dangerous driving habits are addressed and hopefully curbed."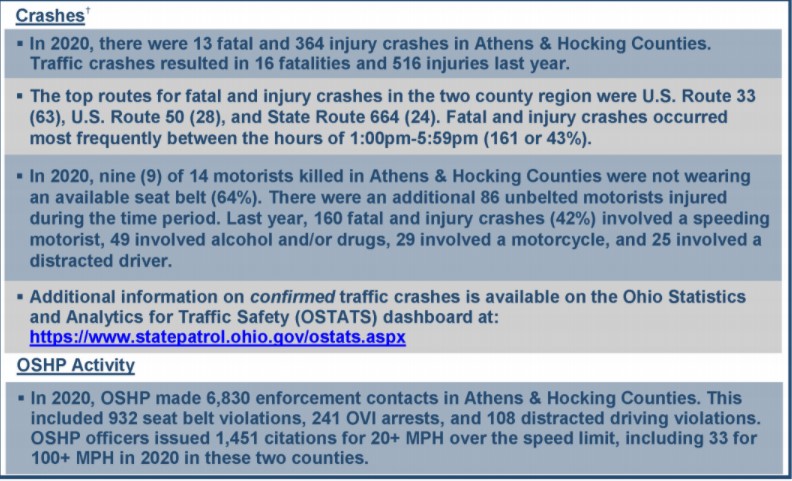 Awareness and education to the motoring public about the dangers of these violations will be the main focus for the three agencies. Crash data and enforcement statistics show that
a concerted effort is needed to keep US-33 safe.

"Deputies are dedicated to keeping residents and the motoring public safe as they travel through or within Athens County," said Athens County Sheriff Rodney Smith. "Working alongside the Patrol and Hocking County Sheriff, we aim to reduce fatalities and make US-33 a safer roadway for everyone."

Roadway safety is a shared responsibility. All motorists can contribute to safer roads by always driving sober, strictly following speed limits and never driving distracted.

The public is encouraged to use #677 to report dangerous or impaired drivers, as well as drug activity. Additional crash information is available from the OSTATS dashboard at: https://www.statepatrol.ohio.gov/ostats.aspx#gsc.tab=0