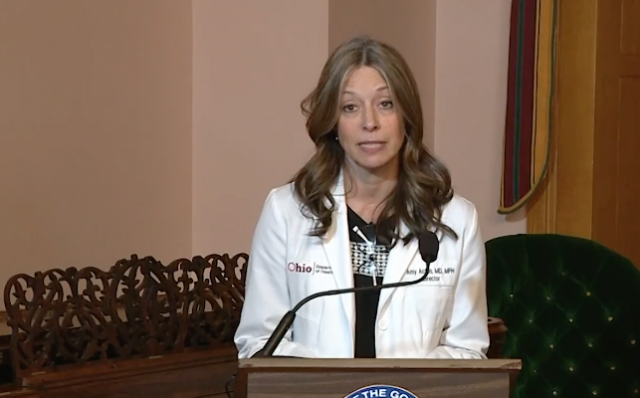 OHIO – Dr. Amy Acton says that we could see surges of 6,000 to 8,000 cases per day in Ohio based on current models she showed today. Acton says that the peak they are seeing they are estimating at May 1, 2020.



.@DrAmyActon: Based on the best data we have currently in #Ohio, at the #COVID19 peak surge – we could be seeing 6,000 to 8,000 new cases a day. The more we can push that surge off, the better hospitals can prepare their systems.

— Governor Mike DeWine (@GovMikeDeWine) March 26, 2020

Acton mentioned that New York is seeing doubling of cases every three days right now.
"We are not seeing all the cases that are out there, we are only testing high risk folks in hosptials due to limited testing. We are now spread to 60 counties and 15 deaths. Around 11% of our people are ending up in ICQ."
Action said the number of people have been tested were 17,356 have been tested, and 17% of positive tests have been health care workers.
"We have decreased our load on healthcare 50%-75%, by canceling elective surgeries, we are also repurposing CPAP and other air machines not normally used for this purpose because we know we will need more for need when the surge comes."
"Its not if but when we will surge in Ohio with the virus. We will expand beyond hospital capacities, but what we are doing what you are doing is saving lives."