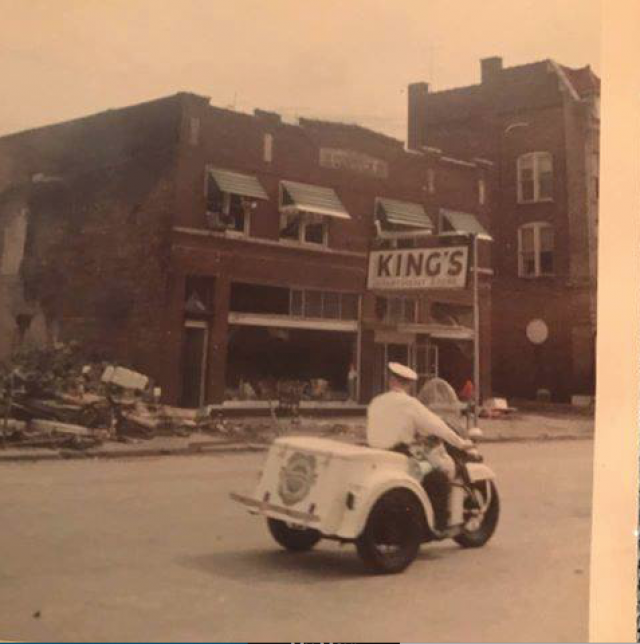 CIRCLEVILLE – By Tahrea Maynard, In the early afternoon of April 15th, 1967, a bomb went off in Bingman's Drug Store, thus cataclysmically altering Circleville's history- and the lives of its citizens- forever. The perpetrator behind the crime was Lee Holbrook, a reportedly jealous and violent man. According to accounts, Holbrook entered the pharmacy that Saturday morning with a smoking box in his arms, announcing to the patrons and staff members that he had a bomb, advising that they needed to run. Prior to arriving at the pharmacy, Holbrook had been seen at his place of employment, Eshelman's Feed Mill, fussing and nailing together a small wooden box. He was next seen in his estranged wife's home, where he attempted to attack and kill her. Thankfully, he was fought off by his brother-in-law, Sherman. Holbrook then ran out of the house and got in his vehicle. He was heard yelling, "You'll never work there again." Holbrook had many problems and took great issue with his wife, Phyllis, working and socializing outside of the home- he had his mind made up that she had been carrying on an affair with another staff member at the drug store. It is no wonder that the main focus of his rage, that morning, was not only his wife, but Bingman's as well. 

Because of Holbrook's unfortunate actions, five people, including himself, died from the bombing. Store owner Charlie Schieber and pharmacist Ted Foster attempted to subdue Holbrook and remove the box from his possession. Unfortunately, the bomb successfully accomplished what Holbrook had set out to do- Bingman's was destroyed, effectively erased from the row of businesses located on Main Street.

This article isn't so much a report on Holbrook's crime as it is a reminder of a tragic and important piece of our history; it is also a reminder of those we have lost. On this 52nd anniversary, we ask that our readers remember our fellow citizens and those they are missing on this day.
Charles Scheiber, 48
Ted Foster, 38
Martha "Mart"Lagore, 45
Francis "Pam" Willison, 36
Lee Holbrook, 40
More details about the bombing and the families involved can be found in Joni Foster's book, When Normal Blew Up. Author Joni Foster is one of fifteen children- five of whom were Fosters- who found themselves without a father/mother that Saturday, long ago. You may also visit the facebook page- https://www.facebook.com/BingmansDrugStore