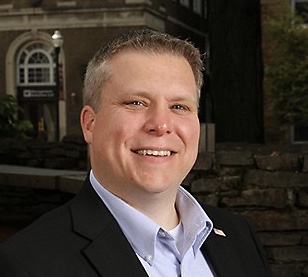 [Circleville, Ohio] Ohio Christian University is pleased to introduce David Uhl ('03) as the incoming Assistant Vice President of Advancement. Uhl graduated from Ohio Christian and will return to his alma mater on January 6. In his new role, Uhl will be involved in fundraising, community engagement, and alumni and church relations. He will also assist the Advancement Department staff in setting goals for the department and building positive connections with donors.
Uhl obtained his bachelor's in Business and Ministry from Ohio Christian in 2003. He later obtained his master's in Leadership for Higher Education from Capella University in 2005 and a Ph.D in Organizational Management and Leadership from the same institution in 2010.
"We are very proud of [Uhl] as an institution," said Vice President of Advancement Craig Brown. "He is situationally aware in respects to Ohio Christian University. He has the ability to not only share the gospel but to be influential with other people. We have an opportunity for someone like that."
Besides his extensive educational background, Uhl also has experience in a number of executive and business-related roles. Many of these roles included capital raising and community engagement. One noteworthy position includes his roles as President and Executive Director for Destination Downtown Lancaster from 2010-12 where he increased membership and sponsorship revenue for the organization by 40% during his
Contact: Keegan D'Alfonso, OCU Asst. Dir. of Communications Phone: (740) 477-7749 Email: [email protected]
two years there. He also developed the first-ever 10-year vision for Downtown Lancaster, which received broad community support.
In 2012 he became Director of Business Development and Government Relations for the Fairfield County Board of Developmental Disabilities (Fairfield DD), where he continued to effectively serve the downtown area and increased revenue of board- owned businesses by over 200% while there. Uhl developed internal professional development programs to build leadership skills among employees and built awareness campaigns that reached 80,000 people annually in his community. He forged over 300 community partnerships that improved the opportunities available disabled individuals in the community. Under his leadership, Fairfield DD was most recently awarded the Social Impact Validated Seal from the BBB of Central Ohio.
He has also served the Lancaster City Council in various roles, most recently as city council president where he has participated in managing the city's $120 million budget and 450 employees. He has also chaired the council's Law Committee and sat on the Finance and Economic Development committees. Since 2011, Uhl has served as the senior pastor at Rushville Church of Christ in Christian Union and will continue in this capacity while serving Ohio Christian.
"We are excited for David and his wife, Perla, and kids, Samantha and Ethan, to join our team," Brown said. "David is a person who values education and is active in ministry as an ordained minister through the Churches of Christ in Christian Union."
Uhl's extensive and demonstrated experience in executive leadership, community engagement, and revenue generation will be a valuable addition to the advancement team at Ohio Christian.
"Ohio Christian University represents an awesome opportunity for people to partner with us in stewardship and philanthropy," Brown said. "My hopes are that David will assume the responsibility and the mantle of leading the Advancement Department under my guidance and direction and continue to grow the department."
Ohio Christian University is a Christ-centered, liberal arts institution that integrates faith and learning, equipping students academically and spiritually for a variety of real-world careers. With five ways to earn degrees through online and classroom options, our supportive faculty foster excellence and integrity in a caring community.