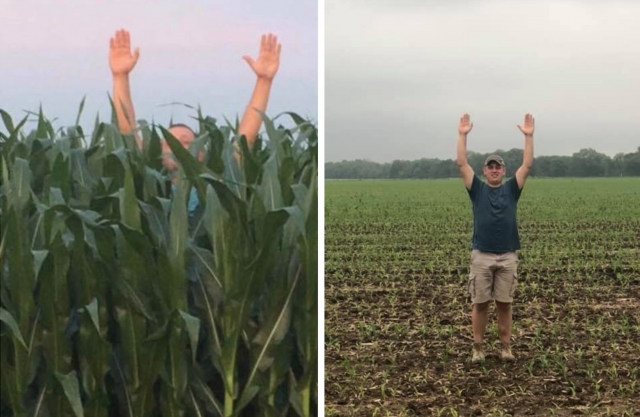 INDIANA – The two pictures you see are a year apart taken in the exact same location. "The Pictures speak volumes to the crisis American Farms are facing this spring," said Katie Staton.
Staton says her husband is 6'3″ and the corn last year was above his head, this year well most corn in the area is lucky to be out of the ground right now.
The midwest is in a crisis some farmers didn't even plant this year because of wet conditions, and farmers insurance does not cover bad crop years if planting doesn't occur by a certain date.



On Monday the U.S. Agriculture reported that Ohio had only planted 68% of its corn, Michigan and Indiana 84%. USDA reduced it expected yield this year to 13.68 billion bushels last year it was 14.3 billion. Corn is now trending to trade at its highest level since 2014.
May 2018 to April 2019 was the wettest year for the United States According to National Oceanic and Atmospheric Administration, and we are expected more rain all this week.
On June 6 President Trump signed a supplemental appropriations bill for disaster relief and aid for farmers for prevented planting.
What will be the outcome? We may have to pay more at the pump this year and corn will be more pricey. If you see a farmer this year be kind they are under a lot of stress.