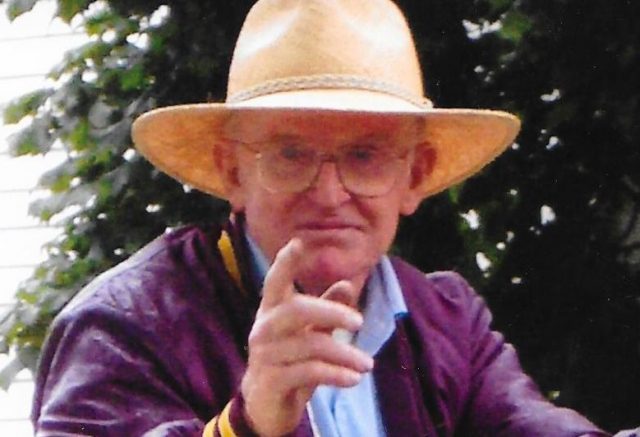 Commercial Point OH- William Lee Green, 86, passed away at home on February 18, 2019.  "Willi" was born on September 30, 1933 to the late William J. and Christal Dean Green. 
Besides his parents, Willi was preceded in death by brothers Harold, Paul, Larry, and sister Nancy Younkin as well as brothers-in-law Roger Crago and Rodney Crago.    
Willi is survived by his wife of 67 years, Doris, daughters Scarlett (Phil) Fox and Julie (Mike) Pettibone.  Also survived by grandchildren Jacqueline (Josh) Alphin, Jenny (Jarrod) Egan, Jill Pettibone, Liz Fox, and great grandchildren Claire Alphin, Levi Alphin, Briggs Egan, sister-in-law Sonnia Green, and numerous nieces, nephews, cousins, and friends.   
Willi graduated from Scioto Twp. High School in Commercial Point, Class of 1951, and was engaged in farming for many years.  Willi and Doris were the owners of Green's Carriage Restoration and Green's Heritage Museum.  In 1975, he went to his first carriage auction and soon became a "buggy nut."  He began collecting and restoring horse drawn carriages and searching for a stagecoach.  Over the last 45 years, he restored and built numerous carriages and wagons, including 15 stagecoaches and 30 hitch wagons.  He also built 10 Conestoga wagons for the Oregon Trail Museum.  Willi also bought and restored several Farmall & Minneapolis Moline tractors.  In 1975, as part of the bicentennial celebration, Green's Heritage Days was started, and Doris & Willi continued for 25 years.  In 2010, American Pickers knocked on their door and they were featured on "American Pickers" season 1.  Willi participated in numerous local parades with his carriage collection and enjoyed going to Teays Valley boys and girls basketball games and attending the county and state fairs.  Willi was a member of Commercial Point Community Men's Club, American Carriage Club, Ohio Valley Carriage Club, Buckeye Vintage Haulers Truck Club and Pickaway County Historical Society. 
Visitation will be from 3-7 PM on Sunday, Feb. 23 at Oliver-Cheek Funeral Home, 420 W. Main St., Ashville, OH 43103 with Funeral Service at 2:00 PM on Monday, Feb. 24 at Commercial Point United Methodist Church, 28 Main Street, Commercial Point with Pastor Jeff Jewell.  Interment will follow at Muhlenberg Township Cemetery in Darbyville.  In lieu of flowers, donations may be made to the Commercial Point United Methodist Church Free Store, 28 Main St., Commercial Point, OH 43116 or the Pickaway County Fairgrounds c/o PCCF, 770 N. Court St., Circleville, OH 43113 or www.pickawaycountyfair.org/fair/revitalization.html.  Online condolences at olivercheekfuneralhome.com