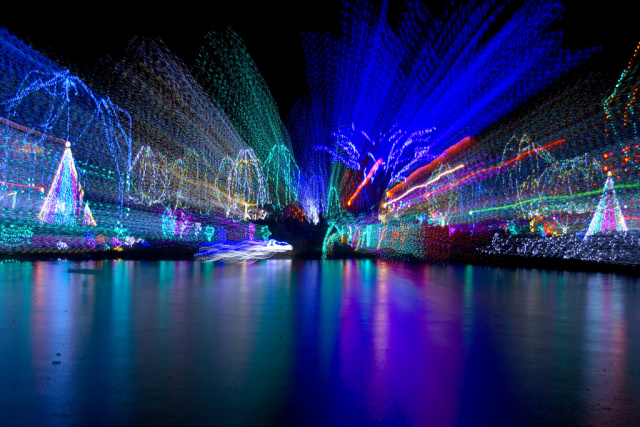 COLUMBUS – Columbus Zoo and Aquarium is offering a thank you to first responders by giving them and up to 5 additional guests free admission from December 26 – January 6,2019.
This year marks the 30th Wildlights season with more holiday cheer than ever before. The entire Zoo will be transformed into a winter wonderland covered in millions of LED lights. Some of this year's main Wildlights attractions include:
Animated light shows, located around Conservation Lake and at Shores Park.
Holiday Star Light Star Bright Seek-n-Find, brought to you by Disney On Ice presents Reach for the Stars, with new winners and magical prizes each week.
Santa's Holiday Home in its new location in North America at the Battelle Ice Bear Outpost! Guests can spend time with Santa and can also enjoy holiday sweets with Mrs. Claus at her kitchen in Conservation Courtyard. Please note that the Claus family will not be available after Dec. 23 due to other obligations.
Wildlights rides, including the Polar Bear Express, a train ride through the North America winter wonderland; camel rides located in the North America region; and the 1914 Mangels-Illions Carousel, a historic Central Ohio treasure located near the Columbus Dispatch Charities Grand Pavilion. Additional fees may apply.
Meet and Greets with Rudolph and Friends. Be sure to bring your camera as the most favorite reindeer of all, Rudolph, and the lovable abominable snow monster, Bumble, join us at Wildlights this year to create even more magical memories. You can also catch Rudolph and his friends on the big screen at the Shores Play Park 4-D Theater in the Rudolph the Red-Nosed Reindeer 4-D Theater Experience.
The Sparkling Spruce, and its captivating light and sound show "Candela: The Evolution of Light" located in Polar Frontier.
And, of course, amazing animals! Many animals will be visible from the comfort of heated, indoor shelters, including Manatee Coast, Discovery Reef, the reptile building, the habitats at Vanishing Giants, the Naomi Coyle Dempsey Quest for Enlightenment Interpretive Center in Asia Quest and the nocturnal building in the Australia and the Islands region. Others – including Santa's favorite, the reindeer – will be outside during the festivities. Please note that the polar bear habitat, lion habitat and Congo Expedition (home of the gorillas and bonobos) will close at 4 p.m.