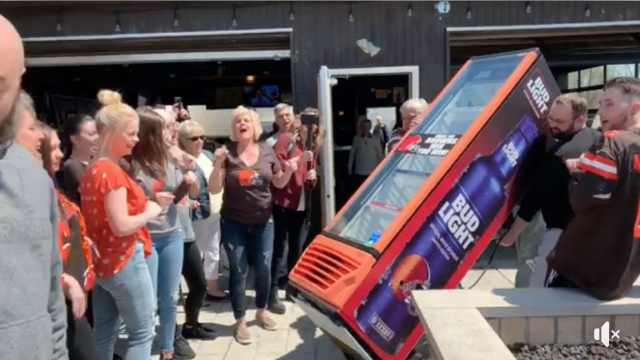 CANTON – A low in Cleveland Browns Football stats and a promise from a Ohio national chain beer company to celebrate the first win eventually.
Bud Light installed "Brown's Beer Victory Fridges" all over Cleveland in 2018, the fridges were padlocked shut and had one promise.  When the Cleveland Browns win a game, the beer is on them.  A genius marketing strategy that went viral, and on September 19 after almost 2 years the Browns won 21-17 over the New York Jets.  Bud light announced beer was on them and unlocked the fridges remotely with a smart lock technology all over the Cleveland area.

"The Bud Light Browns 'Victory Fridge' is a fun way to celebrate and reward a fanbase that has never wavered in enthusiasm or dedication for their team no matter what happens," said Andy Goeler, Vice-President of Marketing, Bud Light. "We're proud to show our support for Cleveland, and we're always looking to bring NFL fans and friends together for memorable experiences. It's going to be fun to be part of the celebration when the team earns their first victory of the season."

Now the Pro football hall of fame wants to place this piece of history in their museum for people all over the world that come and visit the history of football.  The fridge will be displayed in the pro history now area of the Hall of Fame in Canton Ohio.