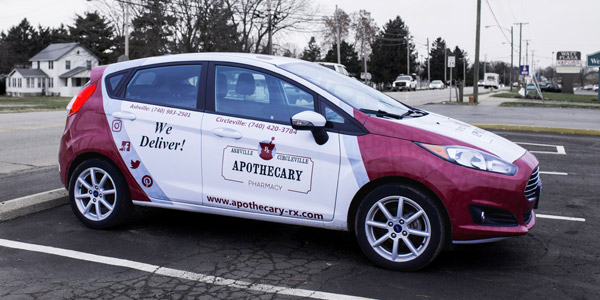 PICKAWAY – DeWine said in a statement over the weekend that Grocery Stores and pharmacies will not close because of the needs of the people.
In response, the Circleville/Ashville Apothocaries have changed how they do their business to meet the needs of the people they serve. One of the ways that the Apothecaries are making things easier for you is to offer free delivery to the entire Pickaway County area.
"Effective immediately, we will begin free delivery to the entire Pickaway County area for patients during regular business hours, ALL days of the operational week. Deliveries will happen in two set periods during the day, and as demand meets. If you are feeling ill, elderly, have pre-existing conditions, or do not want to come to the pharmacy – we are more than happy to deliver your medications. Have your doctor call-in or email your prescriptions, follow up with the pharmacy, and we will instruct you more on exactly how this program will work."
If you can't wait for delivery and want to minimize your exposure to other people or feel ill yourself, the pharmacy is also offering curbside service at both locations.
"If you are not able to wait for the delivery of your prescriptions, please feel free to park your car in the store parking area and call our pharmacy. One of our employees will be more than happy to bring your medications to your vehicle and keep you from feeling like you have to come into the pharmacy. We encourage this, especially for all of those who may be feeling ill, elderly, or at risk of contracting the COVID-19 virus."
Circleville/Ashville Apothocary also states that they are taking steps to make sure their high traffic areas such as door handles and healthcare spaces are sanitary. Employees are also being briefed on proper handwashing and sanitation methods.