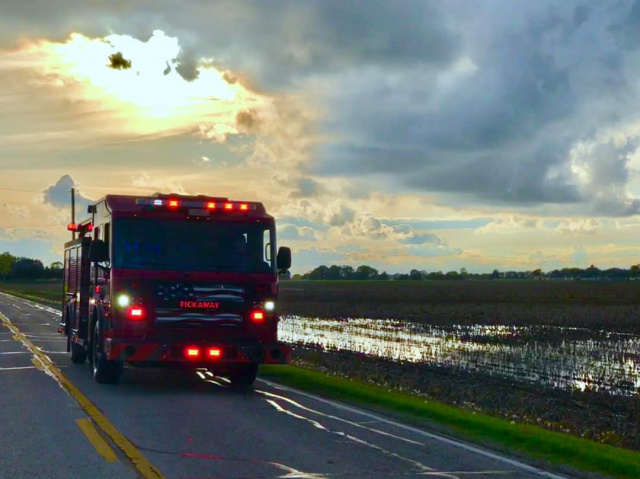 CIRCLEVILLE – The Safety director received almost full support last night during the first reading of a ordnance authorizing him to enter in a contract to apply for two grants that could save Circleville a lot of money in the inevitable replacement of two aging pieces of equipment.
The Contract would allow First Responders Grant writer Mickey Smith of Ohio first responder grant LLC to apply for these specialized grants that pay 91% of the total cost of the equipment leaving Circleville to pay for just a small fraction of cost on a brand new truck. Recently Smith was successful in this grant for Pickaway Township, the cost for a 500,000 dollar frietruck cost Pickaway 20,000 dollars. Smith was also successful in replacing a grass truck for Circleville and a Fire Truck for Sciototownship.


Mickey Smith grant writer of Ohio first responder grant LLC said, "The grant is part of the assistant to firefighter program. The program is in place to help replace antiquaited or unsafe vehicles with focus on "homemade or not firefighter compatible" equipment. Vehicles have to be compliant to NFPA1901 if not they can be eligible for this grant. If anyone is intrested in finding out if their fire equipment qualifies for this grant feel free to reach out and ask questions at [email protected]"
If Circleville was awarded both grants the fire department would have to pay approx 60,000 dollars for both trucks.  The City also has to pay 5,000 dollars each for both grants to be written up front.  This was a sticking point for several Council members during the discussion in Council.
The Safety Director Terry Frazier explained to council that they currently budget around 70,000 for maintenance repairs to these trucks, that both trucks are old and are already costing Circleville money at about the same amount we would pay for new trucks through this program.  Aiming for these grants is inevitable to replace this equipment if we are going to save Circleville money.