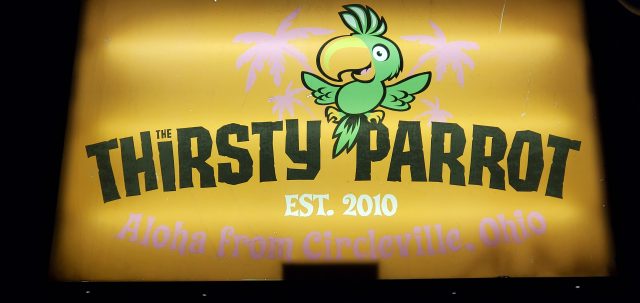 Circleville OH- We recently visited the Thirsty Parrot, located at 706 S. Washington Street and tried a few things on the menu. Our thoughts and opinions are ours, you can visit and form your own.
I will start with the pro's….
The atmosphere is friendly, warm and inviting to anyone as evident when we watched the waitresses interact not only with us, but other patrons. The food came out fresh and fast, waiting a maximum of 20 minutes for all three of our dinners to be delivered to our table.
The drinks were almost immediate, ice cold and refreshing as it should be.
The food, we tried the burgers, fries, cheese curds and a taco salad just to mix it up.
The burgers come decorated however you want and three sizes to chose from, all the toppings to just the meat. This was one of the best hamburgers I've ever tasted, fresh toppings and not greasy like most I've had.
The fries are plentiful, an order of fries can realistically feed two and they are the skinny style fries. Cheese curds are a great appetizer and they came out hot with a side of marinara sauce. Taco salad, fresh vegetables and taco seasoned meat with your choice of taco salsa and sour cream, very yummy. This place is famous for their bourbon chicken and I've not talked to a single person who hasn't loved it, even though we didn't try it this time.
The only con that I can think of…
The building just isn't big enough for all of us and there can be on occasion, a short wait to be seated.