Circleville OH- An investigation that began on November 05, 2019 led to numerous firearms being recovered and held for safe keeping. During the investigation, it was discovered that one of the firearms, a model 98 German 8mm Mauser with Nazi markings on it, was reported stolen more than 45 years ago in Wisconsin. The rifle was reported to have been stolen out of a vehicle in Madison Wisconsin on November 26, 1973. Madison Wisconsin Police Department was contacted by Circleville Detectives and were able to locate the daughter of the deceased owner who was excited to have the family heirloom returned to her.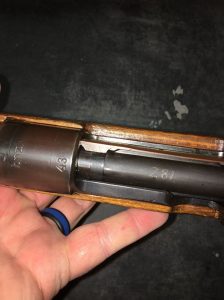 It was also discovered the rifle was an authentic German 8mm Mauser model K98 and it was a standard issue rifle for soldiers of the Nazi Army during WWII. The symbol stamped on it was a symbol associated with the Third Reich.
On February 06, 2020, forty-six years later, this rifle was turned over to the Madison Wisconsin Police Department for them to return to the family of the rightful owner.