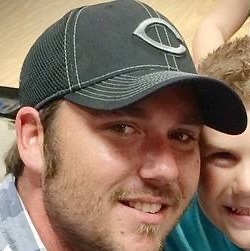 Circleville OH- Brandon K. Lowery, 32, of Circleville, passed away March 4, 2020 at his residence.  He was born on March 13, 1987 in Chillicothe. He enjoyed racing motocross and playing pool tournaments. 
He was preceded in death by his grandparents, Eldon Karshner and Harold and Betty Lowery.  He is survived by his father, Ronald Keith (Kris) Lowery; mother, Paula Jones; son, Braylon Lowery; brother, Tyke (Teresa) Lowery; sister, Jamie Karshner Polly; grandmother, Rose (Sherman McDonald) Karshner; special friend "sis" Katrina Norton; nephew, Oakley Lowery; niece Quincy Lowery and many cousins. 
Funeral service will be held 11:00 a.m. Tuesday March 10, 2020 at the Wellman Funeral Home, Laurelville, with Pastor James Vandagriff officiating.  Burial will be in Green Summit Cemetery.  Friends may call from 2-8 p.m. Monday at the funeral home.  Memorial contributions may be made to Juvenile Diabetes; Wounded Warrior Project or Stages Family, Inc. for the veterans memorial.  Online condolences may be made to www.wellmanfuneralhomes.com.