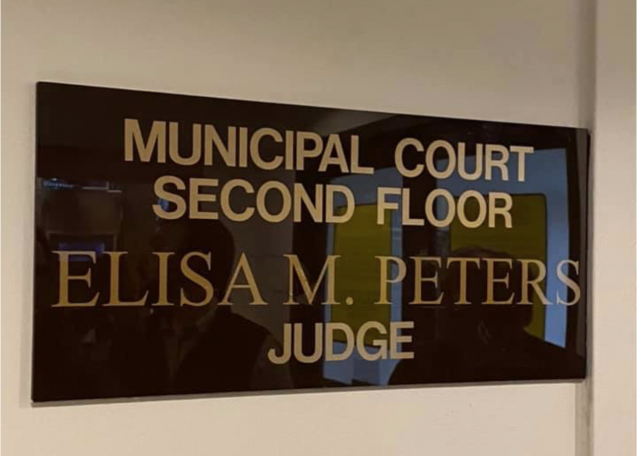 CIRCLEVILLE – Honorable Judge Elisa Peters has signed a administrative order to change how the local municipal court does business, after Mayor of Circleville Don Mcllroy issues a state of emergency for Circleville City.



The order will push back court cases and continuances will be liberally granted, payments will be online only, audiovisual devices will be utilized for all proceedings in court, weddings are suggested to be rescheduled.
Here is the full order and changes.
ORDER IN RESPONSE TO THE COVID-19 (CORONAVIRUS)
PUBLIC HEALTH EMERGENCY
ADMINISTRATIVE ORDER NO. 2020-03 Effective 3/20/2020
The Circleville Municipal Court makes the following Findings of Fact:
1. On March 9, 2020 Ohio Governor Mike DeWine issued Executive Order 2020-01D "Declaring
a State of Emergency" in response to the growing COVID-19 public health crisis.
2. On March 11, 2020 the World Health Organization officially declared COVID-19 to be a global
"pandemic" requiring "urgent and aggressive action" to control the spread of the virus. Also, on
March 11, 2020 the first "community transfer" positive case of COVID-19 in the state of Ohio
was confirmed.
3. On March 13, 2020 President Trump issued a "Proclamation on Declaring a National
Emergency Concerning the Novel Coronavirus Disease (COVID-19) Outbreak," stating that
"[a]dditional measures" are "needed to successfully contain and combat the virus in the United
States."
4. On March 15, 2020 Governor Mike DeWine ordered closed all bars and restaurants other than
carry-out service. On March 16, 2020 Governor DeWine ordered closed gyms, fitness centers,
recreation centers, bowling alleys, indoor water parks, movie theaters, and other businesses. On
March 18, 2020 Governor DeWine ordered closed barbershops, hair salons, nail salons, and
tattoo parlors as well as most of Ohio's Bureau of Motor Vehicle (BMV) deputy registrar
locations and BMV driver examination stations.
5. On March 19, 2020 Circleville Mayor Donald R. McIlroy issued Executive Order 2020-01
"Declaration of State of Emergency, City of Circleville, Ohio" in response to the COVID-19
public health crises directing "all departments and agencies of the City of Circleville" to take all
"steps necessary to exercise diligence in the discharge of duties" while preserving the health and
safety of the public.
Based upon these Findings of Fact, the Circleville Municipal Court has developed a continuum of
flexible responses to this public health emergency. The continuum of responses is intended to
protect public health, maintain essential court functions and to protect the rights of all individuals
subject to the authority of the Court.
THEREFORE, IT IS HEREBY ORDERED:
1. The Circleville Municipal Court will remain open and provide all essential services during the
City of Circleville Declaration of State of Emergency and COVID-19 public health crisis.
2. Only people required to be present for court proceedings are permitted in the Municipal Court
Complex.
3. The Clerk of Court will continue to accept all traffic and criminal filings. All civil filings will
be accepted by mail only.
4. The Clerk of Court will only accept payments online at www.circlevillecourt.com or by
telephone at 740-474-3171.
5. All bail bonds must be posted at the Pickaway County Sheriff's Department, 600 Island Road,
Circleville.
6. All Pay or Appear (POA) and Operator's License (O/L) Compliance hearings are cancelled and
will be continued for at least ninety (90) days. Persons scheduled for these hearings should
provide a current address and phone number to the Clerk of Court and check the website
through the Access Court Records tab to determine the rescheduled date/time to appear.
7. All minor misdemeanor traffic citations set for arraignment can be paid online, by phone or by
mail. If additional time is needed to pay, contact the Clerk's office at the number above.
8. All criminal/traffic and all civil pre-trials will be conducted by telephone or other available
technology.
9. All other court hearings will be conducted as scheduled unless the Defendant is otherwise
excused by the Court, the Circleville Law Director's Office, a public defender or private
counsel.
10. Motions for continuance will be liberally granted.
11. For any matter continued pursuant to this Order, and to which R.C. 2945.71 applies, the period
of any continuance granted will be considered "reasonable" pursuant to R.C. 2945.72(H),
thereby extending the time within which the accused must be brought to trial or preliminary
hearing.
12. The use of audiovisual devices and technologies will be utilized for all proceedings for
Defendants in custody.
13. Access to the Probation Department and ISP Offices is restricted. All scheduled office visits are
suspended forthwith; however, probationers are required to contact their assigned probation
officer at 740-477-9824 to coordinate a telephone reporting procedure and to provide updated
contact information. ALL PROBATION OFFICERS WILL CONTINUE TO MONITOR
COMPLIANCE WITHIN THE COMMUNITY. PROBATIONERS WILL BE HELD
ACCOUNTABLE FOR ENGAGING IN ACTIVITY DETERMINED TO BE IN
VIOLATION OF PROBATION TERMS.
14. Persons with weddings scheduled to take place during the next ninety (90) days are encouraged
to reschedule. If a wedding does proceed as scheduled, no more than six guests may be present
for the ceremony.
IT IS SO ORDERED.