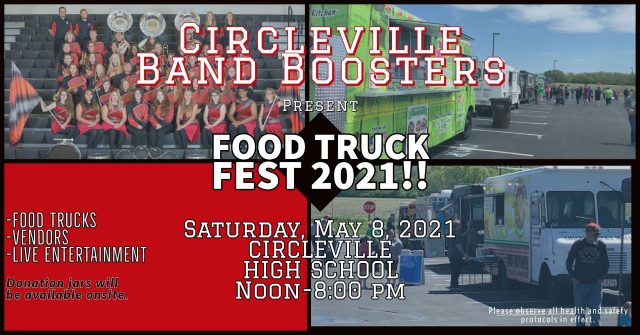 CIRCLEVILLE – Circleville Band Booster will host their annual food truck event as a fundraiser for the group. Planned for Saturday, May 8, 2021, this is a free event.
"Come join us at Circleville High School for a great selection of food trucks, craft shopping and a full day of live entertainment! Saturday, May 8, 2021 from noon until 8:00 p.m. Mark your calendars and support the Tiger Band!"
This year they will have several craft vendors that will sell their wares during the event, plus more food trucks!
Ten food trucks will be offered for your casual tastebud experience, Dj services will be provided by Tune Stone Studio. The Band Boosters will have a jar onsite to collect for the band program this year.
Proceeds of the fundraiser go toward the many expenses of the band program such as band meals, uniforms, music, equipment, equipment transportation, and competition expenses.
"Folks are encouraged to bring chairs and encourages to keep social distance"
Food trucks offer different items so none overlap in foods, Pitabilities, The Burrito Bus, Sweet T's Southern Style, Ye Olde School Sweets and Treats, Graeters, Megabites, Kona Ice, The Cheesy Truck, Taesty's, T's Cupcakes.
The food truck line up could change and add even more! For more info on the food truck even click here: https://www.facebook.com/events/361918155159799/