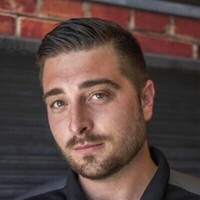 Collin Douglas Matheny, 27, of Chillicothe, OH, passed away unexpectedly at Adena Regional Medical Center May 18, 2020.
Collin was born February 17, 1993, in Chillicothe, OH, to R. Douglas and Melissa Myers Matheny. In addition to his parents, he is survived by his sister, Catherine Matheny; his fiancé, Hannah Thompson and son, Ryker Matheny; son, Jaiden Johnson and his mother, Sasha Payadnya.  He is also survived by his grandparents, Samuel Brent and Sandra Myers; aunt, Vicki Congrove (Beeper); uncles, Gerald Congrove, Charles Congrove, and Christopher (Nicole) Myers; cousins, Angie (Hoyt) Martin, Cindy Dresbach, Beth (David) Chaffin, Caleb (Gretchen) Congrove, Autumn Congrove, and Hadden Myers; and also by his large extended family, the family he shared with Hannah, and the many dear friends whom he loved as brothers.  He was preceded in death by his grandparents Harry and Clare Matheny.
Collin graduated from Chillicothe High School in 2011, and he also achieved the rank of Eagle Scout that same year. He was employed as a finance manager at Ricart Automotive Group. Collin, an avid outdoorsman, loved bird, deer, and coon hunting. He also loved riding dirt bikes, fishing, and raising his hunting dogs. He shared these hobbies for years with his father and his friends.  Moreover, Collin cherished being able to share these passions with his boys.
Collin, with his heart of gold, touched the hearts of so many.  He was a compassionate friend to all he met.  We ask that you remember his passionate bear hugs and the way his smiling eyes lit up the room.  Above all, he was a loving, devoted brother, son, and father who leaves great memories and will be dearly missed.
Private funeral services will be held at the Haller Funeral Home & Crematory Monday, May 25, 2020, Rev. Lawrence Hummer officiating.  The service will be live-streamed at 12:00 pm, at https://video.nest.com/live/xpJYv9zGfO.  Public graveside services will be held 12:30 pm Monday in St. Margaret Cemetery.  It is recommended that you wear a mask and folks will be required to keep 6′ social distance at the graveside service.  Memorial contributions may be made in his honor, for benefit of his children, by mail, to Kingston National Bank, PO Box 613, Kingston, OH 45644. Please write "In Memory of Collin Matheny" in the memo line. Contributions can be made at any of Kingston National Bank's six locations.