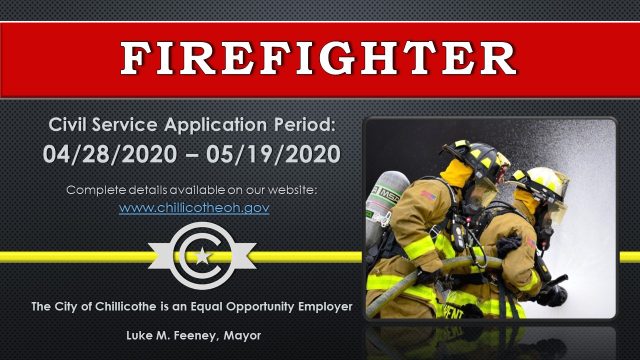 City of Chillicothe, Ohio
Application period: April 28, 2020 – May 19, 2020
In lieu of a written exam, applicants resumes will be scored based on training, education, certifications, and experience to determine eligibility.
• Completed applications will ONLY be accepted via email.
• Clear copies of the application are available on the City website:
•https://www.chillicotheoh.gov/departments/how_to_apply_for_employment.php
• Copies of Firefighter and EMT certification must be submitted with application.
• Credit will be given for submission of your DD214 showing discharge as "honorable" or under
honorable conditions. *Additional credit will be given for Paramedic certification.
**** Copies must be submitted with application ****
Resumes may be submitted along with the completed employment application, but will not be accepted
without the completed employment application.
NATURE OF WORK: Performs skilled firefighting work in combatting, extinguishing and preventing fires; answering
emergency call; and in the operation and routine custodial maintenance of fire department
equipment, apparatus, quarters, and grounds.
REQUIREMENTS: 1. Must possess a High School Diploma or GED equivalent
2. Must be at least 18 years of age (but not past forty-first birthday) at time of hiring.
3. Must possess/maintain a valid Ohio Driver's License as a condition of employment
4. Must possess and maintain Ohio Firefighter II and Emergency Medical Technician-Basic
(EMT- B) certification as a condition of employment and at time of application.
5. Must pass a background check.
6. Must remain insurable under the City's Insurance Policy.
7. Must pass physical examination and extensive cardio pulmonary stress tests.*
8. Must complete psychological examination*
9. Must live within Ross County, Ohio, or any county adjacent to Ross County, within
one (1) year of appointment.
10. Must successfully complete and maintain Hazardous Materials Technician and Ohio
EMT Paramedic certification after appointment.
*Physical ability assessment and psychological exam to be scheduled at a later date for candidates
certified as eligible.
Questions may be directed to: [email protected]