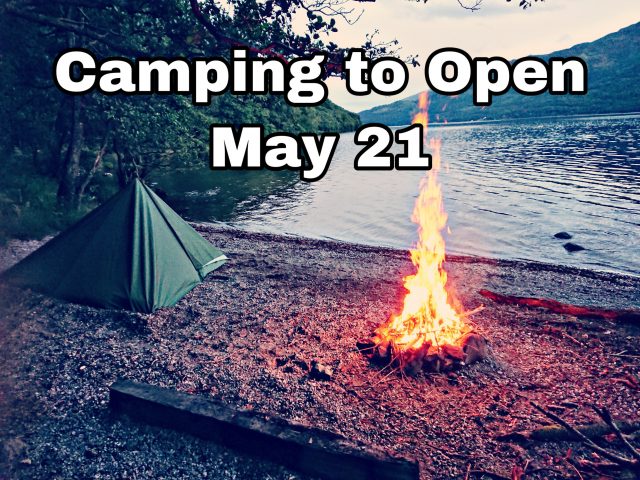 OHIO – Gov Dewine said that camping will resume on May 21 with guidelines. Here are the list of mandatory and suggested guidelines for camping.
Mandatory



Communicate clearly:
• Post information throughout the campgrounds and surrounding areas to frequently remind campers and customers to take steps to prevent the spread
of COVID-19.These messages should include information about:
• Stayinghomeifyouaresickordonotfeelwell.
Using social distancing and maintaining at least six feet

between individuals in all areas of the campgrounds

and with other campsites.

Notgatheringingroups.
Wearing a mask or face covering when entering

buildings or interacting in close proximity to other campers, practicing good personal hygiene
including washing hands often with soap and water for at least 20 seconds, using hand sanitizer, refraining from touching eyes, nose, and mouth with unwashed hands, coughing and sneezing into an elbow, etc.

Maintain public restrooms, showerhouses, and laundry facilities to lower risk of spread of virus.
Ensure there are functional toilets.
Clean and sanitize public areas and restrooms in the

morning and evening, with increased instances
of cleaning and sanitation during peak usage times. Cleaning should be conducted using EPA-registered disinfectants, particularly on high-touch surfaces such as faucets, toilets, doorknobs, and light switches

Make sure supplies for handwashing, including soap and materials for drying hands, are fully stocked every time the bathroom is cleaned.
Provide hand sanitizer where water is not available.
Restrooms, showerhouses, and laundry facilities should

limit the number of users at any one time based on
the facility size and current social distancing guidelines. Cleaning and sanitizing public areas and restrooms should occur in the morning and evening, with increased instances of cleaning and sanitation
during peak usage times.




Closures, modifications, and limitations:
In accordance with current orders, close any non- essential buildings, amenities, and areas where people could potentially congregate, such as pavilions, pools and splash pads, recreation centers, gyms, playgrounds, jump pads/pillows, go-karts, pedal-karts, game rooms, basketball, volleyball, gaga ball, etc. These activities may resume, or restrictions may be eased, when current orders prohibiting such activities are eased or lifted.
Snack bars and restaurants must be run in accordance with current orders and guidelines for such establishments. All self-service food stations should
be closed or only operated by employees in accordance with the guidance outlined in Responsible

RestartOhio for restaurants and bars.

RV/Camper water filling stations, dump stations, and

propane filling stations must follow social distancing guidelines. Pumps should be disinfected each day and regularly sanitized multiple times a day based on peak usage (for example, sanitizing should increase with anticipated high-traffic exit and entry times).