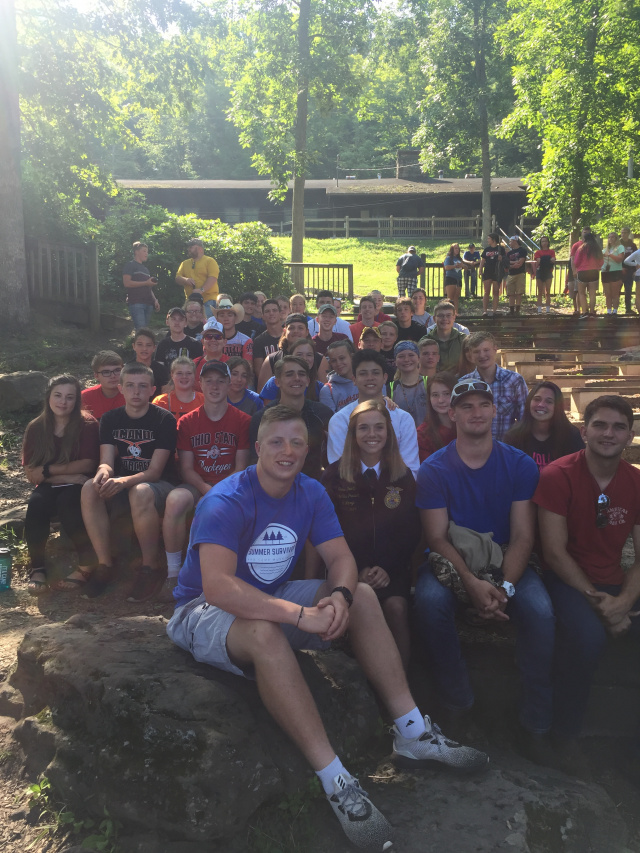 AMANDA-CLEARCREEK FFA – This summer, the Amanda-Clearcreek FFA Chapter sent 56 of its members to FFA Camp Muskingum. After being put into "camp chapters" with other FFA members from all over Ohio, these individuals spent a week making new friends while learning leadership skills as well as how to work together. 
Summer FFA Camp is a major event for the Amanda-Clearcreek FFA chapter. Students sign-up in May and reunite in July to attend the last session of summer FFA Camp that is offered. Students leave on a Monday morning and return on Friday afternoon. During that week, in addition to making new friends and learning about leadership, campers can go motor boating, fishing, canoeing on the lake, paint balling, play volleyball, basketball, kickball and even horseshoes. They can also practice their aim at the shotgun, rifle or archery ranges. On top of that, there are two dances, the first and last nights, for the campers. During all of this, Mr. Jeff Tilley and Mr. Scott Sharp, the chapter advisors, help with the operation of camp, mostly by running the archery and rifle ranges, respectively.
Located in Carroll County, on the banks of Leesville Lake, Camp Muskingum has been offering unique outdoor experiences since 1942. The lake, hillside and forests offer prime opportunities for aquatic and nature studies. The camp offers fishing, archery, hiking, boating, a gun range, swimming as well as both, low and high ropes courses, along with a paintball course. 
At camp the members also came together to watch their friends at the talent show and to compete in public speaking contest. They also got to listen to a speaker who gave what some have declared "a life changing speech." In addition this year, our chapter received a special treat by having one of our members, Emma Dearth, serve as a State FFA Officer and one of the leadership workshop facilitators for the camp for the week.
Between playing different sports, competing for points, and dancing the night away, these teens forgot their phones and will remember the friends they made that week in July.
Submitted: Paige Hinton