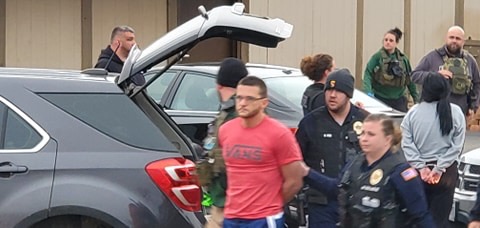 CIRCLEVILLE –  Undercover Police have captured Matthew Cooper at the Rodeway inn in Circleville. Cooper is wanted in a shooting
Cooper is wanted for felonious Assault, having weapons under disability, and has a warrant out of Jackson County. Copper was involved in a shooting in Welston.



Since  Police have been searching for the man, and through investigation has found him at the Rodeway inn room 301 in Circleville around 6:45 pm on March 31.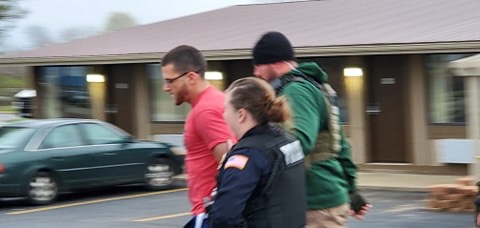 Considered armed and dangerous police surrounded the building and vacated all adjacent hotel rooms before they entered the hotel room. Cooper and a female companion were in the hotel when he was arrested. Cooper came without a fight.
Heres the Circleville Press release:
On March 31, 2020 the Alliance of the Circleville Police Department, the Circleville Municipal Court Probation Department and the U.S. Marshals Southern Ohio Fugitive Strike Team (S.O.F.A.S.T.) apprehended Matthew Cooper, 29 of Wellston, who was wanted in connection to a shooting in Wellston, Ohio.
Multiple Search Warrants were conducted at the Rodeway Inn where Cooper and a female were located hiding from the U.S. Marshals Office. The pair surrendered without altercation. Mr. Cooper was charged with multiple Felonious Assaults, Weapons Under Disability and Adult Parole Violation and transported to the Pickaway County Jail.
SOFAST is a fugitive-focused, U.S. Marshals Service-led task force consisting of local, state and federal authorities including the Ohio Adult Parole Authority, the Circleville Municipal Court Probation Department, Jackson County Sheriff's Office, Chillicothe Police Department, the Circleville Police Department, Pickaway County Intensive Supervision Probation and the Ohio State Highway Patrol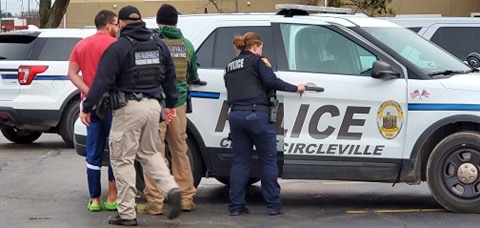 Retraction: Originally we named this shooter Anthony Cook another wanted man for a shooting.