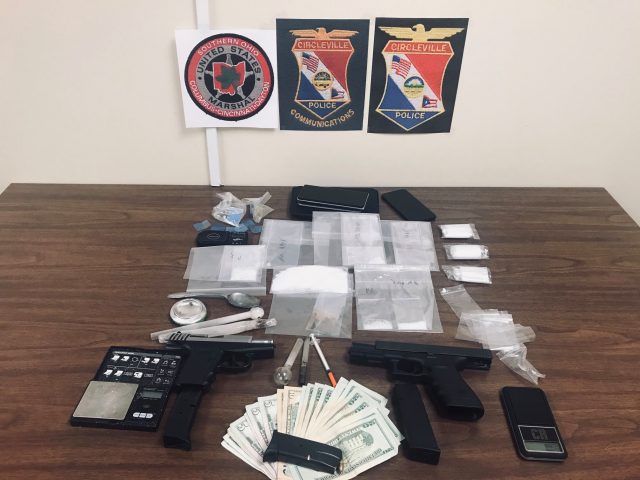 CIRCLEVILLE – Circleville Police department was working a warrant arrest and came across something much larger when they attempted to arrest a individual.
In the morning hours of January 31, 2020, after receiving a tip through the Circleville Dispatch Center, the Circleville Police Department along with the Circleville Probation Department and the U.S. Marshal's Southern Ohio Fugitive Apprehension Strike Team (S.O.F.A.S.T.) went to Rodeway Inn room 305 looking for Jacob Skaggs, who had an outstanding warrant for his arrest.
Upon entry, Task Force Officers located Jacob Skaggs, Virgil Keaton and Thomas Jenkins. Located in plain view, Officers noticed an empty handgun holster, assorted narcotics paraphernalia and observed a plastic bag visible in the toilet which someone attempted to flush.
Task Force Officers requested assistance through the Circleville Communications Center, who quickly dispatched Detectives to secure the scene for further investigation. A search warrant was executed on the hotel room and Detectives located 2 handguns, baggies containing 7.8 grams of suspected Methamphetamine, a small baggie containing .6 grams of suspected heroin, multiple digital scales, a weight to calibrate the digital scales, more small plastic baggies and numerous other assorted items of drug paraphernalia.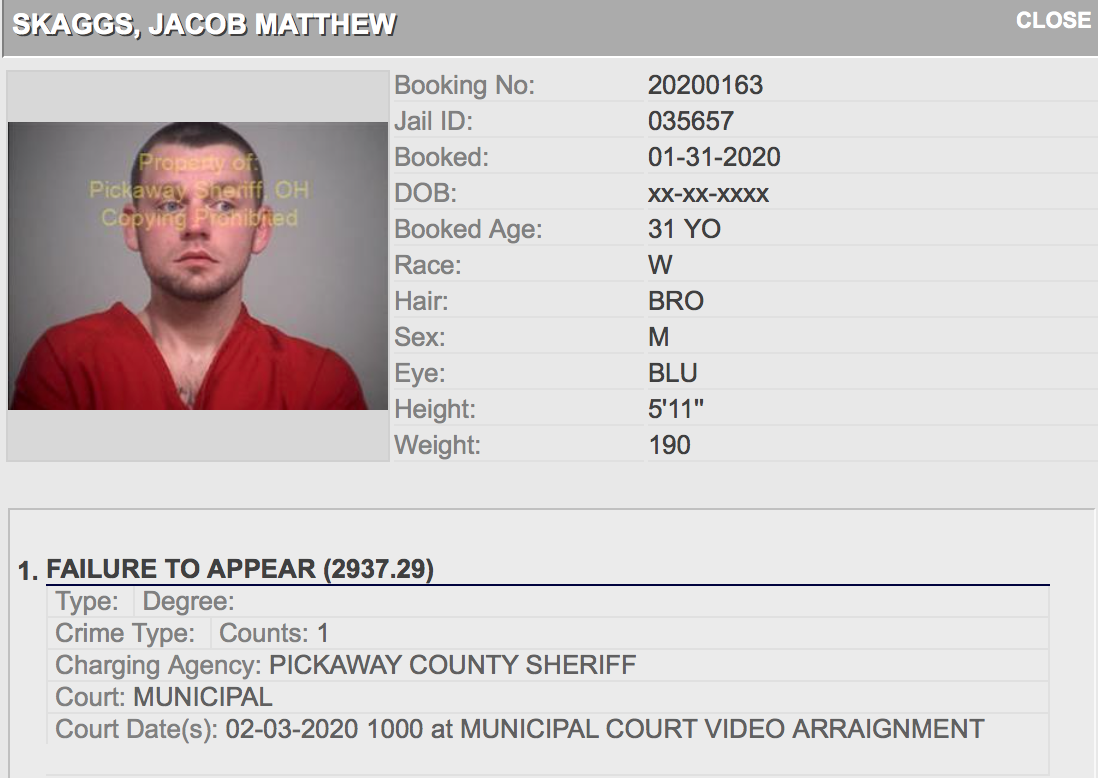 The bag located in the toilet contained approximately 77.93 grams of suspected Methamphetamine and 2.9 grams of suspected Fentanyl. Jacob Skaggs 31 of Circleville, Virgil Keaton Jr. 39 of Circleville were arrested and charged with the following crimes:
Trafficking in Drugs – F2
Possession of Drugs – F2
Having Weapons Under Disability – F3
Tampering with Evidence – F3
Trafficking in Drugs – F4
Possession of Drugs – F4
Trafficking in Drugs – F5
Possession of Drugs – F5