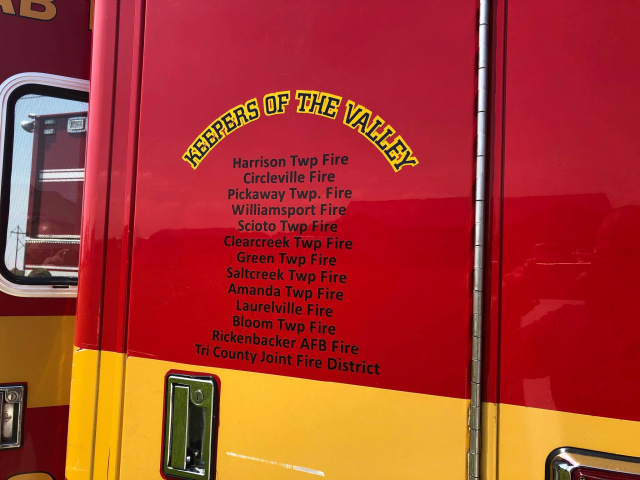 PICKAWAY – Box 65 is a non-profit firefighter support unit that has been housed in Circleville.  Last summer Box 65 found out the building that Ohio Christian University allowed them to house their equipment would be sold, and BOX65 would have to be displaced.  To this day BOX65 still hasn't found a home base, heres a update.
As we head into a new year for BOX65, I thought I would share some history and information on what BOX65 is all about.

BOX65 was formed in September 2010 as a volunteer unit to aid local first responders at emergency scenes. Our first official call was the Circle D fire. Since that time, we have handled 190 runs. The largest to date was the fire at the Hocking Hills State Park Lodge in 2016, which included 40 departments and more than 300 first responders.

BOX65 is an all-volunteer organization whose goal is to lower the environmental health impact for first responders. Based on many studies around the nation and seeing a rise in first responder deaths, it was found that some basic fundamentals were being overlooked, primarily nutrition and hydration at emergency scenes.
BOX 65 is here to correct that by furnishing drinks for hydratrion, food for nutrition, cooling in hot, humid weather, and warming in the cold.
BOX65 receives no public tax funding. We operate solely through donations, and all BOX65 members are volunteers.
Here are some statistics from when we first started tracking them in 2013:
RUNS:                                             174
MAN HOURS:                                   9,223
DEPARTMENTS ON RUNS:                 1,290
SOCKS:                                           12
WATER:                                           7,468
GATORADE:                                     6,501
COFFEE:                                          7,612
HOT CHOCOLATE:                            868
FOOD/POWER BARS/ETC.:                5,848
In 2018, we had one of our busiest years yet with 53 deployments. Twenty-two of those were public relations, 31 runs, 21 structure fires, 2 HAZMAT situations, 6 law enforcement runs, and 1 fire standby with Pic-A-Fay Fire Department on main power lines feeding the village.

In 2018, our volunteers put in 3,426 man hours.
We are still looking for a permanent home for our organization. If you can help, please contact Mark Adkins, Chief of Operations, at 614-206-0773, or Captain Greg Myers at 740-248-1366.