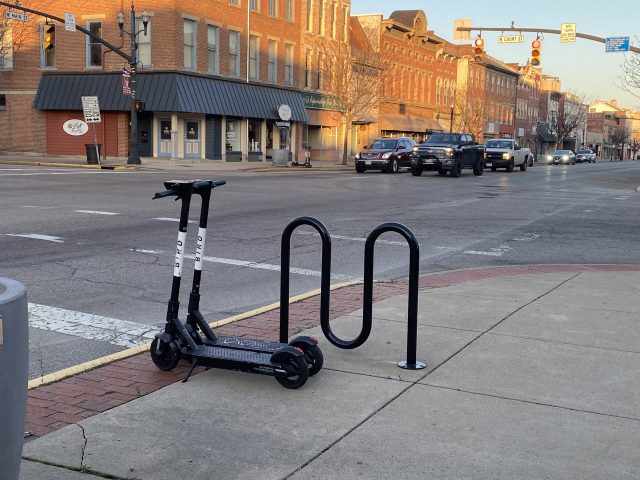 OHIO – Bird launched in Circleville this last week, and the company reached out to tell us that they offer free rides to people in the Healthcare industry.
Starting last year Bird is proud to offer free electric scooter rides to healthcare workers and emergency personnel. To sign up, simply email a copy of your medical identification card along with your name and phone number to together@bird.co. Eligible riders will receive two free 30-minute rides per day for as long as it takes to help our communities recover from this global health crisis.
In mid-August of 2018, Bird launched the first fleet of electric scooters in Tel Aviv, and this coastal, cosmopolitan Israeli city has been setting—and surpassing—urban mobility milestones ever since.
Since then the company has launched 10 million trips on Bird electric scooters over the past two years. Perhaps even more compelling is the fact that more than one-third of these rides have historically taken place during rush hour between 8-10 am and 5-7 pm. 
Last weekend Bird launched about a dozen scooters into the downtown area of Circleville. Mayor Mcllroy said that he had been in talks with the company for about a year and thinks this will give locals and visitors a unique experience to explore and shop in Circleville and Pickaway county.
Bird scooters are usually pretty cheap to operate, the app allows a unlock from a sitting scooter for a dollar, and it's about .15 a minute to drive around town. Monthly rentals are also available for around 25 dollars with unlimited rides.
According to Bird, 56% of rides on their scooters are connected to local businesses in the area, 16% of people use them to commute from parking locations to their jobs.
Bird partners with a local company to host the scooters and maintain them. The scooters are dockless and can be found parked in different areas throughout an area. People pay as they use and leave them when they are done.
You can download the app on Apple and Samsung phones.