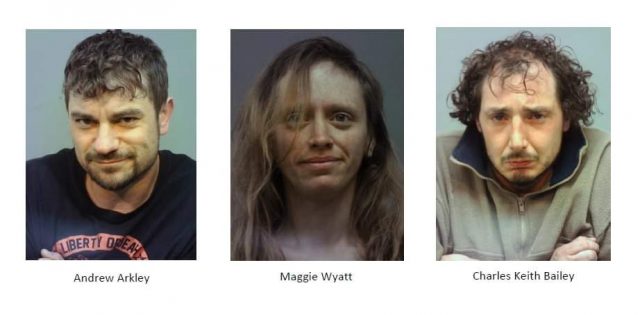 Athens County OH- On April 10, 2020 the Athens County Sheriff's Office was dispatched to Plantsville Road in Chesterhill regarding a breaking and entering in progress. Athens County Emergency Communications advised the caller observed an unknown vehicle at a neighboring residence.
The caller pulled in behind the vehicle and an unfamiliar male exited the home carrying a box and an ax handle. The caller questioned the male at which time the male dropped the box and came at the caller with the ax handle. The caller, being a valid concealed carry permit holder, drew his handgun and told the male to stay where he was. During the altercation, a female appeared from the side of the residence. Both the male and female jumped into the suspect vehicle and fled down the roadway. After the vehicle fled, a second male came out from the side of the residence with his hands up. The caller held this male at gunpoint and walked him to another residence where he could access a phone to call for assistance.
Sheriff Smith advised "the caller was able to remember a license plate number and provide it to dispatchers, who relayed this information to responding units and neighboring law enforcement agencies. The heroic actions and information provided by the caller proved to be crucial."
Deputies arrived on scene and arrested Charles Keith Bailey, age 31, of Stockport, Ohio. Bailey did provide the names of his accomplices and did admit to using methamphetamine with them in the past.
The Morgan County Sheriff's Office was able to locate the suspect vehicle approximately one mile from the scene, and did detain driver Andrew Arkley, age 39, and passenger Maggie Wyatt, age 34, both of Shawnee, Ohio. Arkley and Wyatt were taken into custody after the caller was able to positively identify them as the subjects at the home.
Charles Keith Bailey, Andrew Arkley, and Maggie Wyatt were charged with Breaking and Entering (F5) and were transported to Southeastern Ohio Regional Jail without further incident. Arkley and Wyatt were also found to have additional warrants issued by Morgan County. The Athens County Sheriff's Office impounded the suspect vehicle at the scene and this case remains under investigation.