PICKAWAY – Teays Valley Golden Sound provided music today for the Memorial Service today in three locations.  Harrison Cemetery, Floral Hills, and Reber Hill.  Brian Stewart Pickaway County Commissioner and Iraq Veteran spoke today during the ceremonies.  Stewart talked about the caliber of men he served with, "Thank you for the opportunity to speak with you today and for your taking the time to come pay respects on this important holiday.Memorial Day is our opportunity to honor and remember American heroes who often began as relatively ordinary men and women, but who then made extraordinary sacrifices in service to our great country. They left home, often when they didn't have to, joined dangerous occupations in the military,often when they didn't have to, and left cover for harm's way to engage the enemy,when every instinct of human nature inside their head would usually say. Don't do it you're safe right here. What makes a person do that?Unfortunately, if you listen to some people in our country, they'll tell you that people join the military because they have no other options."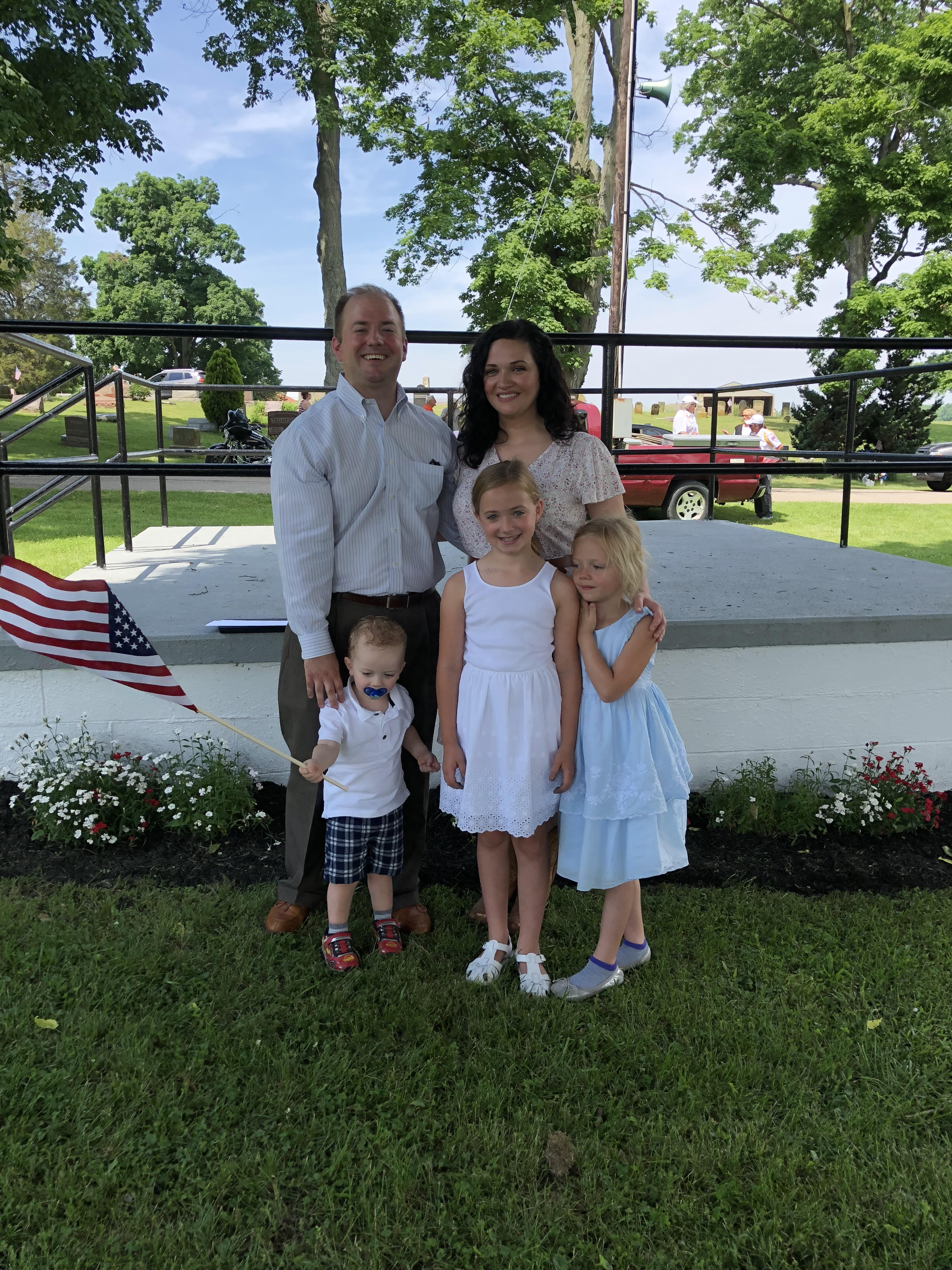 When I came home from Iraq, I watched a prominent national political figure say, "You know,education, if you make the most of it, you study hard,you do your homework and you make an effort to be smart, you can do well. If you don't, you get stuck in Iraq."
Another leader in Congress said that, "If a young fella has an option of having a decent career or joining the army to fight in Iraq, you can bet your life that he would not be in Iraq."
The boys scouts of America where there to raise the flag to half staff, while the band played land of the free, the troops saluted in honor of those that have made the ultimate sacrifice.
Ladies and gentlemen, that is nonsense. This sentiment has always irritated me because I can tell you from experience that the infantry is made up of people who grew up rich, people who grew up poor,people of all races and backgrounds,from every state in in America, people who go on to be doctors, teachers, factory workers, police officers, business leaders, farmers, mechanics, and yes, even a few misguided souls who go on to become lawyers and elected officials. The Army was more diverse than any college campus I've stepped foot upon, but held together by one common trait. Which is that, in truth, there's only one thing that actually motivates a person to leave home, fight, and die on a battlefield:and that is love of this country. Maybe it's love for what America is, or maybe it's love forwhat we hope that it can be. But either way, when I think of those who, as the Bible says,laid down their life for a friend,I remember people who carried their heads high, who could have done anything else, but chose to serve, and deserve our respect and admiration."
Stewart then spoke about the loss of lives in war and how many people we honor on Memorial day. "The number of these heroes is impressive. Across America's history, there have been more than 1.4 million American military casualties. Numbers can get abstract after a while though, so let's put that into some perspective. If everyman, woman, and child in Pickaway County were gone tomorrow, that number would almost equal the number of military deaths in the Vietnam War. The same can be said of the 54,246 service members killed in the Korean War. North of here is Ohio Stadium, where each week during football season Ohio State draws more than 100,000 fans.
15 gun salute was performed by local veterans, and then taps was conducted in its historical way by Teays Valley Golden Sound.
If every fan inside Ohio Stadium disappeared one Saturday,that number would almost equal the American casualties suffered in World War I. Fill four Ohio Stadiums and you'll get a sense of how many Americans died inWorld War II. 750,000 Americans died fighting our CivilWar, which would be equivalent to 1 out of every 15 Ohioans living today. Americans have paid dearly for the freedom we enjoy, and the freedom we've brought to millions more.OnMemorial Day, we often talk about honoring the fallen, but I would challenge us all today, to honor their mission as well. As I've already suggested, these heroes didn't die for college money or a housing allowance they died because they believed America was worth dying for. They wanted to preserve a history and way of life that is unique in the world, a country that matters in the lives not just of our own citizens but millions of other free people around the world. That was the mission for these heroes on the battlefield, but if we're not careful, we risk failing that mission here at home.You see, we're becoming a nation that's ignorant of its own history and system of government. A nation where late night talk show hosts can't find a single person on the street who knows the name of the Vice President, and it amuses us,instead of horrifying us. We often use the phrase
Never Forget on Memorial Day, but this should mean more than just remembering the heroes' names. We have to remember what they fought for. Unfortunately, too often, we don't. If you want a good example, ask someone under the age of 40 what they know about the Korean War. My guess is that, in the vast majority of cases, the only thing they'll say is that they're pretty sure it was fought in Korea. Nearly half a million Americans died in World War II, and yet a recent study found that 66% of all Millennials could not identify Auschwitz as a Nazi concentration camp, and 22% of Millennials had not even heard of the Holocaust. A university survey from 2017 found that a full 33% of all American adults cannot name a single branch of the federal government, and 37% of American adults could not name a single right protected by the First Amendment. Surveying more than 1,000 colleges, 72%of them do not require a single course in U.S. history or government as a prerequisite for graduation."
Stewart spoke on education of our children and challenged listeners to reach out and educate themselves on our American History. "Fellow Americans, this is unacceptable. A nation that's forgotten where it came from and lost sight of why it's special won't inspire brave men and women to wear its uniform for very long. I suspect that if you're in this crowd today, you're likely not among those percentages I just mentioned, and this is a problem that needs to be tackled by a great many people in government and in our school systems. But it also needs to be tackled by each one of us. And so, if you'll allow me, I'd like to give each of us a homework assignment; something tangible that each one of us can do to help fix the problem I just mentioned. Between now and the 4th of July, will you commit to reading 1 book about American history? 1 book,about any subject, between now and the 4th of July. Because what I've found is that reading about American history makes you extra proud to be an American. It makes you want to contribute, to do your part, to learn more about our history, and then to share that history with others. The young person who learns about the victories at Yorktown, Gettysburg, the Battle of the Bulge, and the like, is the young person who becomes inspired to serve in the military themselves. The challenges we face in society today can seem insurmountable drug abuse, violence, generational poverty, and much more.But free, informed Americans have overcome great challenges in the past, and I know that free, informed Americans are up to the task today as well. Thomas Jefferson once wrote that,"If a nation expects to be ignorant and free, in a state of civilization, it expects what never was and never will be."
This Memorial Day, let's take these words as a challenge that we all can work together to meet. In closing, I've promised myself that I'll never let any opportunity to speak on Memorial Day pass by without acknowledging Jose Guereca,David Sallie, LeeArthur Lewis, Christopher Brown, my team leader William Scates, and one of my closest friends, Scott Lange Kirkpatrick, 6 men I served with who made the ultimate sacrifice in Iraq and Afghanistan. I've shed tears for all of them. I shed the tears because I miss my friends, and because, admittedly, I still carry anger for the enemies that killed them. Because I remember the young children standing by their dads'caskets, and the wives and parents they left behind. I shed the tears because I think of the lives that could have been, of the careers they might have had, of the blessings I've been able to enjoy that these brave men will not, but I shed the tears for heroes not victims and I know that's how they would have wanted it. The 6 men I knew were professional soldiers; they'd trained for many years, extended their enlistments in many cases. Our brigade motto was send Me and they wanted to be sent. I know that each of these men would want and deserve to be remembered. But if they could, I believe they'd also tell us to celebrate their life, rather than mourn their death. And so that is whatMemorial Day has become for me, and perhaps for you. A time to celebrate the lives and sacrifices of those who died to make America what it is and what it can be. A time to reflect on who we are, and what each of us can do every day to be worthy of this sacrifice. A time to honor these heroes' mission, by making it our own. Thank-you, and may God continue to Bless America.