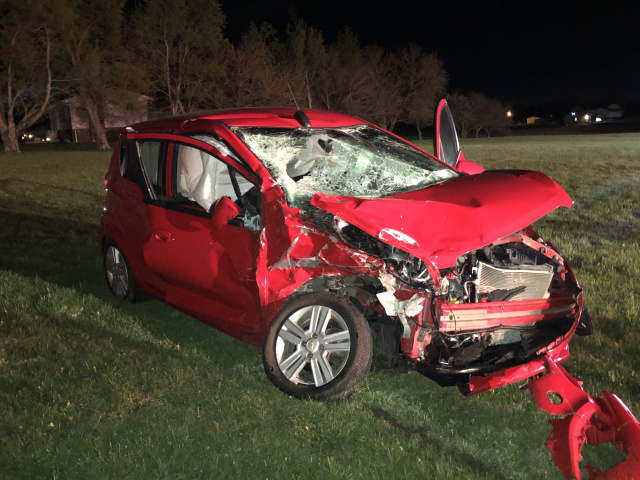 PICKAWAY – An accident occurred around 9:30 pm on April 22, 2019, at the intersection of 22 and 674.  According to scanner traffic, one needed to be extricated and was stuck inside the vehicle.
According to Pickaway County Sheriffs on the scene a collision happened in the middle of the 22/674 intersection when a Chevy Spark failed to yield to oncoming traffic heading west on 22.  The Red Chevy Spark according to her statement was heading Northbound on Winchester Southern Road (674) she stopped at the stop sign and believed it was a four ways stop then proceeded into the intersection.  The driver of the Silver Chevy Silverado extended cab was traveling westbound on 22 heading into Circleville and struck the Spark.
This caused the Silverado to exit the roadway on the right-hand side for about 100 feet then reenter 22 where it came to a full stop.   The Spark left the pavement on the left-hand side of 22 coming to rest about 60 feet from the roadway in a cornfield.
The driver of the Silverado was pinned in the truck and needed to be extricated by Clearcreek Fire/EMS, and he then was emergency helicoptered by Survival Fight to Grant Hospital.  EMS transported the passenger of the Silverado to Berger with non-life threatening injuries.  The driver of the Spark was also transported by EMS to Berger also with non-life threatening injuries.
The sheriff reported that all occupants were wearing seatbelts at the time of the crash.