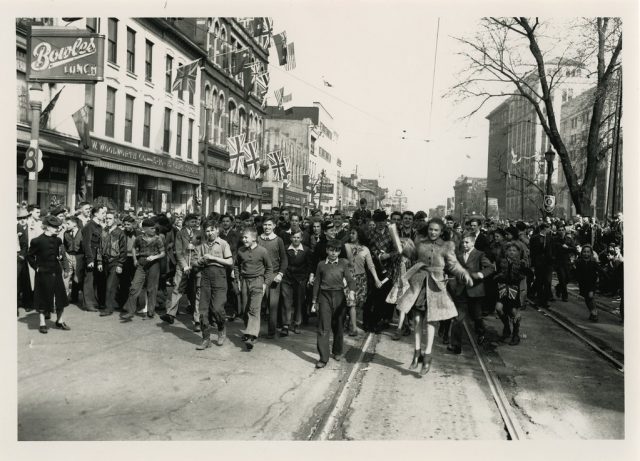 US – On 8th May 2020 it will be 75 years since the guns fell silent at the end of the war in Europe.



Years of war throughout Europe caused carnage and destruction brought on by World War 2. In the morning hours of May 8th, millions of people took to the streets in celebrations of the war being over.
The celebration wasn't only in Europe though, with family members who worked hard at home supplying the troops with aid, and fear of losing more soldiers to battle. When the news spread of the end of war there was celebration in the streets.
LIVE: The Arsenal of Democracy & #WWII 75th Commemoration Committee present a #VEDay video tribute. #DoDRemembers75 https://t.co/O0W03o7qDV

— DOD Outreach (@DOD_Outreach) May 8, 2020

Every year government organizations celebrate this day as a way to strengthen unity and peace, and remind other of the enormous sacrifice that was seen during these times.
Part of the celebration started today in the morning hours, but because of COVID-19 issues the celebration will stretch to May 10th 2020.
The Department of Defense posted a video earlier today celebrating peace of the seize fire watch below.
LIVE: The Arsenal of Democracy & #WWII 75th Commemoration Committee present a #VEDay video tribute. #DoDRemembers75 https://t.co/O0W03o7qDV

— DOD Outreach (@DOD_Outreach) May 8, 2020

A statement from the president Donald Trump,

"Seventy-five years ago today, the last remnants of the Nazi regime unconditionally surrendered to the Allied Powers, marking the end of World War II in Europe.  Today, we celebrate the forces of freedom who defeated tyranny and emerged victorious in that monumental struggle.  We pay tribute to those who served for their service and pause to remember those who gave their last full measure in defense of the flames of liberty.

The campaign to end fascism in the European Theater is a somber reminder of the price of freedom.  More than 30 million lives were lost and tens of millions more were shattered in the war.  Most of those who perished in Europe were civilians, including 6 million Jews and millions of others from Poland and the former Soviet Union.  The United States also suffered incredible losses.  Of the more than 2 million Americans who deployed to Europe and the Mediterranean or patrolled the Atlantic Ocean, more than 186,000 paid the ultimate sacrifice, and more than twice that number were wounded.

Most of these selfless and heroic warriors had never known life in a prosperous America.  They grew up during the Great Depression, when America's economic prospects seemed bleak.  Yet, they answered our country's call of duty because they believed in the principles that lie at the foundation of our Nation.  They came from the plains of the Midwest, industrial and manufacturing towns, the sprawling farmlands of rural America, and our country's up-and-coming cities.  Many had never traveled outside of their home states, but they would trek thousands of miles around the world to meet their tyrannical enemies on the beaches of France, in the forests of Belgium, on the hills of Italy, and on hundreds of other battlefields of Europe and North Africa.  These American heroes would not relent in their noble efforts until they had liberated all of Europe from the abhorrent Nazi regime.

Today, as we reflect on the 75th anniversary of the end of the World War II in Europe, we are reminded that no challenge is greater than the resolve of the American spirit.  Over the past months, our Nation has faced remarkable adversity during the coronavirus pandemic.  But just as we have so many times before, America will triumph, and we will emerge from this a stronger and more united country.

I join all Americans in honoring our brave warriors for their gallant service and sacrifice in World War II.  Fewer than 400,000 of the 16 million Americans who served in our Armed Forces during World War II remain with us today.  Their generation—the Greatest Generation—will never be forgotten.  We are forever grateful for their immeasurable contributions to the success and prosperity of our Nation."