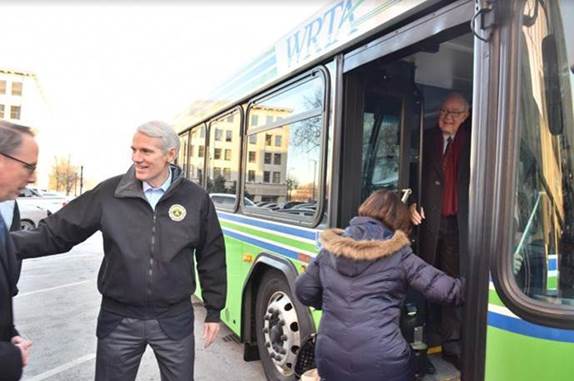 YOUNGSTOWN, OH – Today, U.S. Senator Rob Portman (R-OH) met with Youngstown leaders and toured the future autonomous bus route that will be funded by the recently-awarded $10.8 million BUILD (Better Utilizing Investments to Leverage Developments) federal grant from the U.S. Department of Transportation. The BUILD grant will be used to make improvements to the Central Business District in Youngstown that includes Fifth Avenue, Park Avenue, Rayen Avenue, Commercial Street, Federal Street, Phelps Street, and Front Street.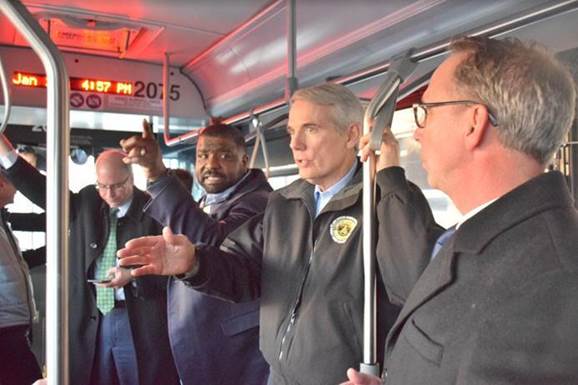 "This grant is great news for Youngstown, and it was exciting to see the proposed improvements firsthand today as I toured the city," said Portman. "This enhancement will provide great multimodal access between key employers in the Mahoning Valley, and I'm thrilled about the jobs that will result through these transportation improvements, which is vital to strengthening the economy in Northeast Ohio."
 Portman sent a letter of support to Transportation Secretary Elaine Chao for the Youngstown BUILD Grant application in June of last year. Portman met with Youngstown leaders in January and September of last year to discuss the BUILD Grant.  He also discussed the merits of the BUILD Grant application with Secretary Chao in November. Last December, Portman met with Youngstown leaders in D.C. to discuss the BUILD project, which will enhance mobility, improve safety, and integrate technology into a modern and efficient multimodal transportation system in downtown Youngstown.