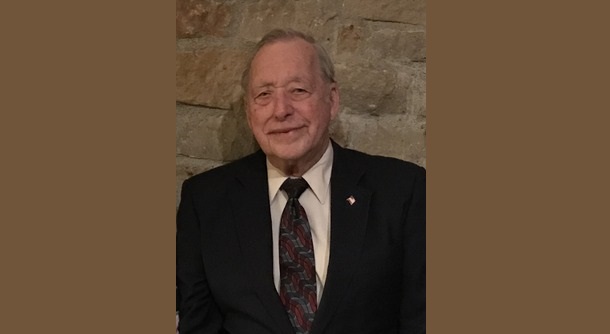 Walton W. Spangler, 92, of Ringgold, OH, died January 1, 2018 at Berger Hospital.  He was born on May 1, 1925 in Pickaway County, the son of Russell and Helen (Barr) Spangler.  He graduated from Walnut Twp. High School May, 1943.  He attended Ringgold UM Church where he has been a lifelong member, Sunday School teacher, Sunday School Superintendent, Lay Leader, Choir Member, Trustee, Chairman of Pastor Parish Relations Committee, President of Church Council and continued to be an active Rotarian, serving as President serving in 1977-78 and served on the Board of Directors at the Savings Bank in Circleville, OH for 40 years.  He served in the U.S. Army from August 16, 1944 – July 1, 1946.  He was awarded the Combat Infantry Badge, 1st. Bronze Star for Heroism in ground combat, 2nd Bronze Star for Meritorious Achievement in ground operations against the enemy, Army Good Conduct Medal, European African Middle Eastern Campaign Medal with 2 battle stars, Army of Occupation Medal (Germany) and the World War II Victory Medal.  He farmed in Washington Twp., was Pickaway County Sheriff from 1961-1964 and retired from Pickaway County ACSC Office with 22 years of service.  He was a member of Buckeye State Sheriff's Association and National Sheriff's Association, Rotary, Gideon's International and WWII 80th  Division Veteran's Association where he held the office of Past National Commander.
Walt kept busy over the years public speaking, sharing his WWII stories with students honoring Veterans on Veteran's Day, attending and speaking at several Memorial Day Celebrations over the years, and sharing with other church congregations on Sunday mornings representing the Gideon's.  The Spangler's enjoyed time spent with their family, especially their great-grandchildren.  Walt was preceded in death by his parents and siblings, Jeanette Martin, Olive Neff, Doris Seitz, Russell, Marvin and Max Spangler.  He is survived by his wife, Mary Annabel (Norris) Spangler; children, Carol Ann (David) Baker, Warren (Janet) Spangler and Karen (Jerry) Kelley; 7 grandchildren, Jennie (Rob) Baker-Wheaton, Lindsay (Chris) Baker-Diken, Tyson (Jenna) Spangler, Jason (Mary Beth) Green, Jamie (Matt) DeLorne, Shannon Montiel and Jackie (Steve) Tilling; 8 great grandchildren; and 3 step great grandchildren. Funeral service will be held 11:00 a.m. Saturday January 6, 2018 at the Ringgold U.M.C.
Burial will be in Reber Hill Cemetery.  Friends may call from 4-8 p.m. Friday at the Wellman Funeral Home, Circleville.  Memorial contributions may be made to Ringgold UMC, 17689 Main St. Ringgold, Circleville, OH  43113; Hands for the Disabled, 210 Lancaster Pike, Circleville, OH 43113; Meals on Wheels, Pickaway Senior Center P.O. Box 565, Circleville, OH  43113 or Honor Flight Columbus, P.O. Box 12036 Columbus, OH  43212.  Online condolences may be made to www.wellmanfuneralhomes.com.