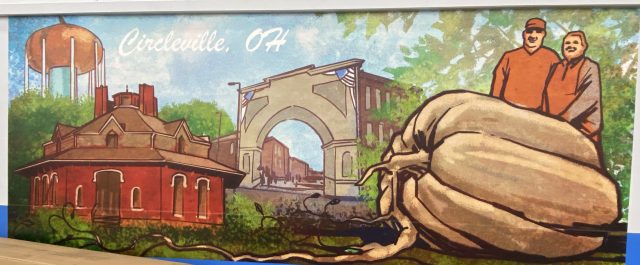 CIRCLEVILLE – Sometime last night until this morning a mini mural of Circleville went up on the front wall of the Walmart in Circleville. Place upfront in front of the cashiers and to the right of the customer service center sits a large mural depicting several iconic images of Circleville.



The Mini Mural features the pumpkin tower, The Octagon House, Eric Henns Downtown Circleville Mural, and a Pumpkin Show Giant Pumpkin.
According to Walmart this was part of 1,000 store communities across the country to show their city pride by designing a mural to be hung within their local store.
"Most of our U.S. stores see thousands of customers a day, so these murals are great opportunities for artists to have their art displayed to their local communities," Walmart.
The program paid a $300 stipend, and was open to artists of all ages, skill levels and experiences, including art students and art organizations.