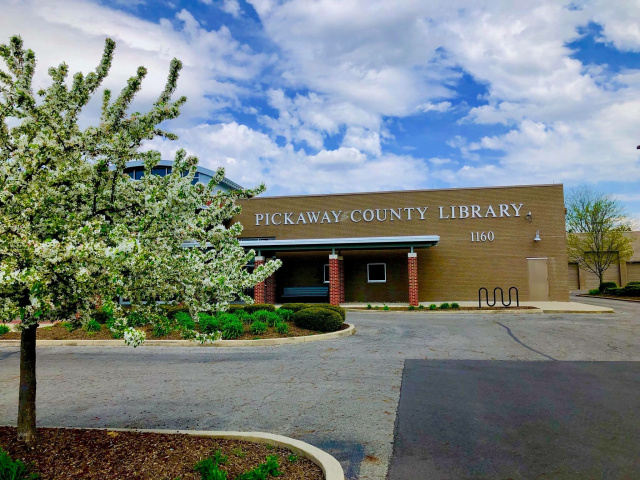 CIRCLEVILLE – The library will be closed on Saturday, Oct. 20, for the Pumpkin Show. This includes the Main Library in Circleville and the Floyd E. Younkin Branch Library in Ashville.
Here's what's coming up at the Pickaway County Library in October:
All Ages, Main Library, Circleville:
Frankenstein Flash Fiction Contest: Oct. 1-31, open to all ages
Used Book Sale, Saturday, Oct. 6; Last of the season – $5/bag!
Behind The Scenes: Saturday, Oct. 6, 3 PM, presented by Roundtown Players
Ticks & Icks: Sunday, Oct. 7, 2 PM, presented by Pickaway County Health District
Youth, Main Library, Circleville:
Preschool Storytime, Mondays, 10:30 AM
Baby/Toddler Storytime, Wednesdays, 10:30AM
Kids Club, Thursdays, 6 PM:
Paper Mosaics: Oct. 4
Phases of the Moon: Oct. 11
Enjoy Pumpkin Show, no Kids Club Oct. 18
It's About Time: Oct. 25
Craft: See-Thru Pumpkins, Saturday, Oct. 6, 1 PM, ages 6 & older
Teens and Adults, Main Library, Circleville:
Cold & Flu Prevention, Monday, Oct. 1, 1PM, presented by the Central Ohio Area Agency on Aging
Teen Tuesdays:
DIY Cord Organizers: Oct. 2
Mini Pumpkin Decorating: Oct. 9
Game Night: Oct. 16
Movie: Nightmare Before Christmas & Costume Contest: Oct. 23
Game Night: Oct. 30
Escape Room: Monster/Halloween Theme: Wednesday, Oct. 3, appointment required online or call 740-477-1644 x 227
Escape Room: Monster/Halloween Theme: Friday, Oct. 5, appointment required online or call 740-477-1644 x 227
Intellectual Property Law: Patently Good Ideas for Business & Entrepreneurs: Monday, Oct. 8, 6 PM
Reality Gardening with Master Gardeners: Soil Testing: Thursday, Oct. 11, 3-5PM
Monstrous Creations: Mary Shelley's Frankenstein: Friday, Oct. 12, 4 PM, presented by Ohio University Chillicothe's Debra Nickles and Dr. Tony Vinci
Make & Take Craft for adults and teens: Saturday, Oct. 13, 3 PM
Frankenstein Book Talk: Monday, Oct. 15, 1 PM
Money Management Tips: Tuesday, Oct. 16, 1 PM, presented by OSU Extension, register at 740-474-7534
Frankenstein Film Festival: Oct. 21-26:
Sunday, Oct. 21: Frankenweenie, rated PG, 3PM
Monday, Oct. 22: Frankenstein, not rated, 4:30PM
Tuesday, Oct. 23: Bride of Frankenstein, not rated, 3:30PM
Wednesday, Oct. 24: Son of Frankenstein, not rated, 4:30PM
Thursday, Oct. 25: Young Frankenstein, rated PG, 4:30PM
Friday, Oct. 26: Abbott & Costello Meet Frankenstein, not rated, 4:30PM
Saturday, Oct. 27: Igor, rated PG, 4PM
Local History from Pickaway County's African American Heritage Association Monday, Oct. 22, 6:30PM
Resume & Cover Letter Workshop: Tuesday, Oct. 23, 10AM
Book Club for Adults: Mr. Penumbra's 24-Hour Book Store By Robin Sloan: Wednesday, Oct. 24, 7PM
Being A Healthier You: Monday, Oct. 29, 5:30 PM, presented by OSU Extension
Beginning Genealogy: Wednesday, Oct. 31, 6 PM
Younkin Branch Library Activities, Ashville, OH:
Preschool Storytime, Tuesdays, 10:30 AM
Board Game Night: Wednesday, Oct. 10, 5:30 PM
Movie Matinee: Solo: A Star Wars Story: Saturday, Oct. 13, 2:30PM, rated PG-13
Ukulele Jam: Monday, Oct. 15, 6:30 PM
Halloween Movie & Fun Night: Thursday, Oct. 25, 5:30PM
Make & Take Craft: Rock Painting: Saturday, Oct. 27, 2:30PM