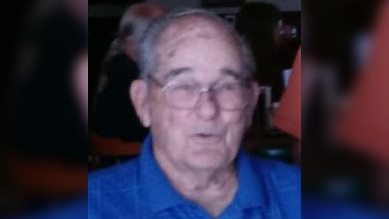 James F. Norris, age 82 of Circleville, OH passed away surrounded by his family on Monday, Jan. 8, 2018.  He was born on March 25, 1935 to the late James F. and Hulda (Bradley) Norris Sr. in Spartanburg, SC.  He served in the Marines during the Korean Conflict from 1953-1955 and throughout life was involved with AMVETS, The American Legion and was a Past Commander of Rick Brown VFW. He was Past Master of Blue Lodge F&AM 550 in Proctorville, OH and also Columbia Lodge 286 in Columbia, PA. James was a past member and was baptized at Fairland South Baptist Church in Proctorville, OH and was a recent supporter of Millport Chapel in South Bloomfield, OH. He had worked in the construction business working for Fluor Daniels and retired from being self employed owning Norris Enterprises.  In the last few years, he enjoyed repairing and helping people with their motorized scooter chairs.
 Along with his parents, James is preceded in death by first wife of 40 years Roma Lapp, second wife of 10 years Betty Null Ward, siblings Mary Ellen, Lottie, Becky, J.C., Elizabeth, Bill and Bob.
 James is survived by wife Marjoria "Dolly" Owens Picklesimer Flebbe Norris; children Vicki (Willie) Sheeler of Oxford, PA and Vincent James Frieze of Lancaster, PA; stepchildren John (Christine) Ressler of Lancaster, PA and Audrey Esposito of  Gastonia, NC; sister Frankie Wright of Spartanburg, SC; his second family, the Picklesimer Family-Bob(Luann), Garry (Cheri), Larry (Kyme), Barry, Dennis (Anita) Pickelsimer, all of Amanda, OH area, Deborah (Marcus) Peters of Circleville, Cynthia (Tom) Branscom of Chillicothe, OH; numerous grandchildren and great grandchildren, nieces and nephews and a host of loving friends.
 Visitation will be on Thurs. Jan. 11th from 4:00-7:00 p.m. at Oliver-Cheek Funeral Home, 420 W. Main St. Ashville, OH 43103 with a service beginning at 7:00 p.m. with Chaplain Jim Ferrell officiating and Military by AMVETS Post 2256.  Final Service will be held by the Clyde Kraft Funeral Home in Columbia, PA with Interment at Living Light Mennonite Church Cemetery in Lancaster County, PA. In lieu of flowers, donations can be made to:  Haven House, 1180 North Court St. Ste. G. Circleville, OH 43113.  Online condolences at olivercheekfuneralhome.com