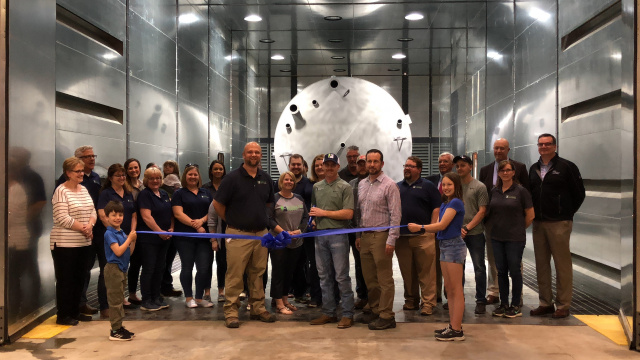 CIRCLEVILLE – Forjak officially opened its doors on Thursday, April 18, 2019, at the Logan Street location in Circleville.
This is a win all around for Circleville, "said Ryan Scribner, executive director of P3 (Pickaway Progress Partnership). "The building has stood empty since 2003, its an investment into Circleville, and it creates jobs and tax revenues for the city."

Adam Logan owner of Forjak has had a commercial painting business since 2001 that has been headquartered in Columbus Ohio and does business nationwide, but Logan's roots are originally here in Circleville.  Logan Graduated in 2000 from Circleville High School and his dad Mike Logan is a former Mayor of Circleville.
The new opening in Circleville was an expansion on his business, doing something he calls a nitch market.  The new company called for a building that needed to have adequate height to handle some of the large projects they plan to do, plus have good access.  The structure here in Circleville was a custom building build for Aeroplastics, most commercial buildings have a 14 to 16-foot tall roof deck, and that wouldn't work for what they were doing.

"Building a 22 to 24-foot tall building is expensive, said Logan. We had two locations in mind; one of them was only 1/8th of a mile from our current Columbus location, and we thought it might be ideal.  "We could walk there, but Ryan Scribner and Mayor Mcllroy provided overwhelming support to us, being a medium-sized fish in a small pond vs. being a tiny fish in a huge pond helps."
Logan also said that it felt right being part of the revitalization of Circleville, cleaning up a building that was ignored for so many years repairing the broken windows and doing the landscaping felt good.
The plan has already seen a few jobs but will go into full production as soon as they fully staff the location. "We are hiring if anyone is interested, we currently are running two shifts but want to open it up for a third shift when we get fully staffed."
Forjak currently employs 75 company-wide.  Logan says they plan to expand the Circleville plant from 10 employees to eventually up to 100.